Information gathered by DGN Online indicates that nine passengers onboard a VIP bus with registration number GT 5693-15 have died in an accident at Gindabour in the Sawla-Tuna Kalba District of the Savannah region.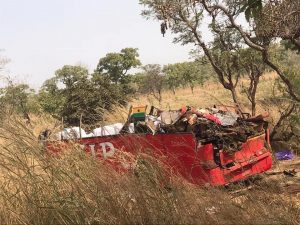 The deceased persons included 3 children and 6 adults have been sent to the Wa Government Hospital for identification and preservation.
Nine other passengers sustained various degrees of injuries and have been rushed also to the Wa government hospital for treatment.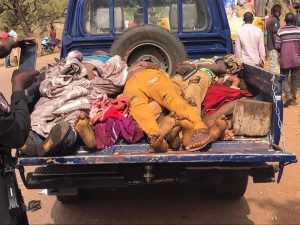 The Savannah Regional Police Public Relation Officer, Inspector Adjekum Owusu who confirmed the incident to DGN Online said the VIP bus was traveling from Accra to Wa in the Upper West region.
According to him, upon reaching a section of the Gindabor road the driver veered off the road and hit a tree resulting in the accident.
He indicated that preliminary investigations conducted by the police revealed that the driver was sleeping while driving.
"We can say that he was sleeping so he veered off the road and collided with a tree, the tree ripped off parts of the vehicle and at the spot, nine persons died which 3 of them are children and 6 adults."
He, however, noted that the bus had 45 passengers onboard from Accra and that from Kumasi to Bole most of the passengers alighted leaving 18 onboard to Wa in the Upper West region.
Inspector Owusu, however, disclosed that the driver of the bus had multiple injuries on the hand and could not speak and for that matter, they would interrogate him when he recovers.
The Savannah Regional Police PRO advised vehicle owners to ensure that they employ at least two drivers for every trip and urged the drivers to always stop and rest when they are driving on long journeys to avoid accidents on the road.
FROM Eric Kombat, Gindabor