Asamoah Gyan
Black Stars captain, Asamoah Gyan has rescinded his decision to quit the national football team.
This follows an intervention by president Akufo-Addo after Gyan announced his retirement from the team on Monday.
In his resignation letter Gyan attributed his decision to coach Kwesi Appiah's choice to take the captain's armband from him ahead of the 2019 Africa Nations Cup in Egypt.
President Akufo-Addo reached out to him on Tuesday after meeting with the sports minister and Black Stars management.
In a statement, the striker said he had no choice than to respect the president's request.
"A presidential request is one that cannot be disregarded.
I have had the opportunity to speak with the father of the nation. The President of the Republic, His Excellency Nana Addo Dankwa Akufo-Addo… has asked me to rescind my decision to retire permanently from the Black Stars.
I have taken the request of His Excellency Nana Addo Dankwa Akufo-Addo in good faith, and will make myself available for selection by coach Kwasi Appiah.
My desire to help Ghana end the over three-decade long wait to annex the AFCON trophy still bums strong, and I remain committed to serving this great nation and the people of Ghana," he said in a statement issued on Wednesday.
Gyan made his international debut at the age of 17 and scored on his senior international debut for Ghana against Somalia on 19 November 2003 in the 90th minute.
Since then, he has gone on to make 106 appearances for the Black Stars scoring a total of 51 goals.
As the all-time leading goalscorer of the Ghana national team, with 51 goals, he represented Ghana at 2006, 2010 and 2014 FIFA World Cups.
With 6 goals, he is the top African goalscorer in the history of the World Cup.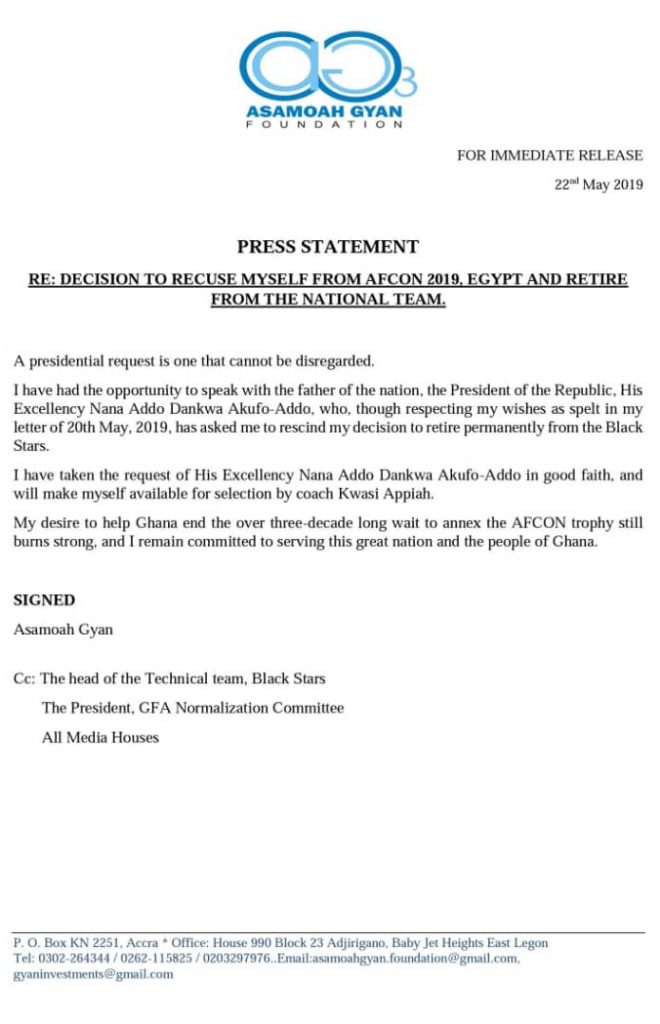 By DGN Online