DCOP Dr Gustav Herbert Yankson, Cyber Expert and deputy commandant of Ghana Police Academy
"I was at home one day when I heard my daughter chatting with somebody while she was in the bathroom," says Grace Quansah, mother of 13-year-old Maame Adwoa.
I went into the bathroom and was surprised to see my girl having a video chat with a male adult while completely naked. I seized the phone and till now, she has not been online," she said.
Maame Adwoa's parents got her an android phone in the wake of the COVID-19 pandemic when schools were on lockdown to enable her to join online classes but the purpose of the phone soon changed.
"We all know what is happening recently; the leaking of sex tapes here and there. I am a believer and pray that none of my family members fall prey to any of these demonic acts," she said.
Adding that, "I don't know if I can withstand the shame."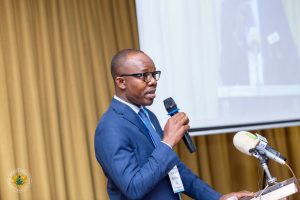 Dr. Albert Antwi – Boasiako, executive director of Cyber Security Authority
Maame Adjoa, however, in an interview, said he met the said man (Boyyorsky) on Facebook two years ago. Boyyorsky claimed he was domiciled in the United States of America.
"We have been chatting and yet to meet…. But he is my friend and we constantly chat online until my mum seized my phone," she said.
Viral Phonographic Videos
Emmanuel Owusu, a teacher with the Sefwi Bekwai Senior High School in the Western North Region, says the influx of pornography materials involving children (teenagers) is becoming alarming and worrying.
"Of late, our children, especially those in the second cycle institutions, fancy recording their nudity, twerking, acting provocatively, and posting same on social media just to get followers.
"Some even record their sexual acts, which later hit our internet space causing shame and embarrassment to their families. Within our level, the usage of mobile phones on campus is illegal; unfortunately, we find some of these children secretly using the device in their dormitories. For day students, the situation is out of hand, since most of them have mobile phones," he explained.
He continued that most of these children are seen everywhere, on Twitter, Facebook, ghdownload.com, and Telegram, among other platforms.
"It seems parents, religious leaders, and the political leaders are losing this fight. It is becoming uncontrollable but I believe something can be done about it," he added.
The dramatic increase in child pornography offences over the past 10 years is directly related to the availability of such material on the internet.
Child pornography is the depiction by film, picture, computer image, or other means of an identifiable minor, engaged in sexually explicit or lewd conduct. It can be found on the web, in newsgroups, and on peer-to-peer networks.
In June 2022, two videos of some teenagers popped up causing uproar among parents, religious leaders, and child rights organisations, among others.
The most recent one is a teenager who was flogged by some men in the Upper West Region after her sex video popped up on social media.
Another viral video involving a 16-year-old girl said to be a Girls' Prefect of Mawuko Senior High School came out causing pandemonium among parents and teachers.
The Cyber Crime Unit of the Ghana Police Service said it is investigating several cases of leaked videos that have gone viral involving teenage girls.
The report indicated that among the cybercrime offences, fraud also known as scams (be it romance, investment, and recruitment fraud) has been leading other crime cases since 2016.
Others include digital extortion, unauthorised access to people's accounts, using fake Facebook accounts, stealing information, publication of obscene materials, threats of death and harm, MoMo fraud, the threat of distribution of obscene materials, cyberbullying, undermining privacy, and forgery.
The Director-General in charge of the Public Affairs Unit of the Ghana Police Service, DCOP Kwesi Ofori, said some of the suspects arrested in connection with obscene materials are facing trial.
"More than 300 criminals were arrested in 2021 and out of the number, 45 are standing trial but six have already been convicted and are serving a minimum of two and maximum of ten years jail term."
However, he said several of the cases are hanging due to the complainant's refusal to assist the police with investigations.
"Some of the victims who are children, often plead with the police not to involve their parents in some circumstances but when the parent is eventually informed and directed to bring the children for their statements to be taken, they also refuse," he added.
Expert's views
"People born before the age of social media grew up largely offline, but things are very different now, and kids' lives are incredibly intertwined with social media. And, as a result of this cultural shift, more and more kids are sharing provocative images of themselves online," says DCOP Dr. Gustav Herbert Yankson, a cyber expert and also Deputy Commandant of the Ghana Police Academy.
He said there is a need for parents to teach their children their cultural values that prohibit them from exposing their nudity.
"Our children of today need guidance, and monitoring in order not to pick bad behaviors currently ongoing on our various social media platforms. A lot of kids are just at the [age] where they're exploring their sexuality, and they're also able to navigate the internet with more freedom," says Dr. Yankson.
He said there are parental controls that parents must also explore to prevent their wards from accessing some websites online.
Government Intervention
The Ministry of Communications, through the National Cyber Security Authority, on October 1, 2020, launched the Child Online Protection Reporting Portal to enhance the country's preventive and reactive interventions to address child online safety issues.
The Child Online Protection Reporting Portal would help to receive reports of child sexual abuse materials available on the internet.
Dr. Albert Antwi Boasiako, Executive Director of the National Cyber Security Authority (CSA), said apart from the policy framework, the authority has put in place several activities organised annually to bolster the protection of children online.
These include the national awareness campaigns to universally highlight child online protection issues for Senior High Schools as part of the Safer Digital Ghana Campaign, Operationalisation of the Internet Watch Foundation (IWF) COP Reporting Portal, which enables reporting and takedown procedures of images and videos of illegal content, children and young people's encounter online. There is also the deployment of cybercrime/cyber security Incidents Reporting Points of Contact (POC) to report inappropriate content online for children and to seek advisories.
Through these programmes, over 40,000 students selected from Senior High Schools have been reached across the country in 2019.
"In 2020 and 2021, there were more media engagements due to the COVID-19 pandemic. This year, over 4000 students were reached through the COP Divisions school engagements, and 3000 girls were reached as part of the Girls in ICT programme by the Ministry of Communications and Digitalisation."
Meanwhile, statistics from CSA Point of Contact (POC) indicate that 23 cases were reported in 2020, another 23 in 2021, and 6 cases between January 2022 and May 2022.
Fifty – two (52) of the cases were reported to the POC for investigation.
"A total of 56 cases have also been reported to the Internet Watch Foundation Children Division since October 2020," according to the Cyber Security Authority.
Work of CSO
On the civil society front, most organisations working on children-related issues in Ghana are mainly involved in the protection of children's rights and wellbeing offline.
The Global Resource & Information Directory (GRID), an encyclopaedia of information maintained by the Family Online Safety Institute on worldwide Internet trends for children and youth, notes that there are practically no organisations actively involved in the provision of online safety information for Ghanaians.
"According to GRID, the few websites available focus more on improving access to ICTs and somewhat digital literacy.
Internet Watch Foundation has reported that its worst year on record for sexual abuse online in 2021 confirmed 252,000 URLs containing images or videos of children being sexually abused compared with 153,000 in the previous year.
Meanwhile, the optional protocol to the United Nations Convention on the Rights of the Child on the sale of children, child prostitution, and child pornography draws special attention to the criminalisation of these serious violations of children's rights and emphasises the importance of increased public awareness and international cooperation in efforts to combat them.
The protocol provides definitions for the offences of 'sale of children, 'child prostitution, and 'child pornography.
It also creates obligations on governments to criminalise and punish activities related to these offences.
By Linda Tenyah-Ayettey