Cassie Jaganyi Communications Leader for P&G Sub-Sahara Africa with President Nana Addo Dankwa Akufo-Addo of Ghana
US multinational consumer goods company, Procter & Gamble (P&G), says some 50 million sanitary pads have been donated to over one million young women in Africa in the last 15 years as part of an effort to help women out of period poverty.
Corporate Communications for P&G Sub-Sahara Africa, Cassie Jaganyi, who represented the company at the just ended Global Citizen Festival in Accra, said the company was proud of this achievement.
According to her, P&G's participation in the Global Citizen Festival this year is important to the company because "it was an opportunity for us to take time to celebrate all that we have achieved and focus on what we hope to achieve in the future."
"At this festival, we took the opportunity to celebrate the fact that P&G has donated over 50 million pads in the last 15 years to girls across Africa, which is something we're incredibly proud of," she stressed.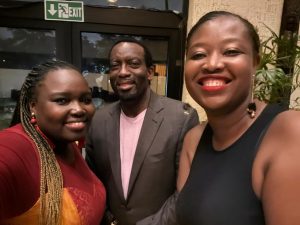 Cassie Jaganyi Communications Leader for P&G Sub-Sahara Africa with Tshepo Mahloele, Chief Executive Officer at Harith General Partners
For her, the festival also offered P&G the opportunity to hear what other organisations were doing, which had inspired them to "continue to make a change in the areas where it is needed most."
Cassie indicated that this year P&G had put the spotlight on its flagship programme dubbed: "Always Keeping Girls in School," explaining that the company came up with the programme when it was discovered that three in 10 girls miss school as a result of their period each month.
"This was a problem that we wanted to solve and as we got more involved in the affected communities, we learned that there were three areas that we needed to address," she noted.
According to her, the programme focuses on three key areas – assessment, education on menstrual health and menstrual hygiene – to challenge the ideas of stigma, shame and self-confidence that girls feel as a result of going through a natural process.
Project Manager of the Always Keeping Girls in School, Nombuso Mashele, said, "I get to work with girls who face this problem every single day and to see the programme get this kind of recognition is wonderful."
She explained that this meant that more people had become aware of the issue, adding that "I hope that it would inspire more people to get involved to try and fix it."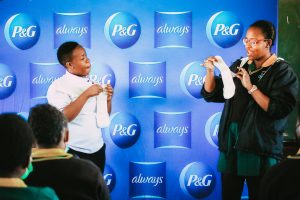 Always Keeping Girls In School 2022 
"These girls need help in this area and we're doing our best to try and offer that help but many hands make light work and so I hope more and more people get involved," she submitted.
Mashele noted that period poverty is indeed one of the factors preventing African young women and girls from fully meeting their potential in life.
"When some of these girls start their period, they often don't even know what is happening because no one has taken the time to explain to them; and what this then leads to is feelings of shame, lack of self-confidence and fear.
"All of these are feelings that lead to these young girls not being able to reach their full potential in life. One of the key things we're hoping to do is to change this through the power of education and the power of access," she stated.
For her, knowledge is a true power, asserting, "Once girls understand what Is happening, they're more equipped to manage it and deal with it, and not let it be a stumbling block to their success."
By Ernest Kofi Adu