Akuapem Poloo
Actress Rosemond Brown aka Akuapem Poloo has been sentenced to 90 days' imprisonment for publishing a nude picture of herself taken in the presence of her 7-year-old son.
The actress who was emotional and expressed remorse for her act was sentenced to 90 days imprisonment for three separate counts but would run concurrently.
She was full of pleadings after her sentencing, saying "mummy, please I beg, Mummy , I beg" but the court presided over by Christiana Cann would have none of it as she expressed the need to curb the increase in posting of nude materials online which is affecting children.
The court also touched on the need to protect public morals hence the need to pass down a harsh sentence to deter others from doing same.
Ms. Cann also touched on the prevalence of publication of nude materials which affects the right to privacy and dignity of children as reasons for the sentencing.
Akuapem Poloo was facing three charges of publication of obscene materials, engaging in domestic violence, a conduct that in anyway undermines another person's privacy or integrity and engaging in domestic violence namely conduct that in anyway detracts or is likely to detract from another person's dignity and worth as a human being.
She was dragged to court after she had displayed her naked picture with her son on social media on June 30, 2020 to celebrate his birthday.
She initially pleaded not guilty to the charges and was granted bail in the sum of GH¢100,000 with four sureties, two of who must be justified.
She later changed her plea to guilty to all three charges and was convicted on her own plea by the court presided over by Christina Cann.
The court however, deferred her sentencing to Friday, April 16, 2021 for her to undergo a pregnancy test in compliance with Section 313(1)A of Act 30.
Akuapem Poloo was therefore, remanded into police custody for her to be taken to a government hospital for the pregnancy test to be conducted.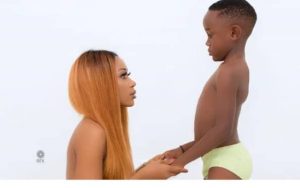 BY Gibril Abdul Razak