Efua Adabie, Headmistress of ASA explains a point to the participants.
A Masterclass aimed at building theteachingskills and capacities of teachers of mathematics across the country has been held at Ho, in the Volta region with participants from the Volta and Oti regions.
This is the third in the edition as organized by the African Science Academy (ASA) and solely sponsored by Tullow oil.
The one-day event, brought together over 70 teachers from senior high schools within the two regions that are currently running the double-track system of secondary education.
The event was done in collaboration with NOVAN Education and Training, an educational service provider, headed by Miracule Gavor.
It also aimed at bridgingtheratio of men-to-women-mathematics-teachers while encouraging female teachers to participate in such programs.
In her address, Efua Adabie, Headmistress of ASA reemphasized the essence of motivating teachers in the field of mathematics to inculcate innovative ways of teaching the subject, which to many, is seen as a difficult one to study.
She also spoke about the dream that birthed ASA, which is an all-girls school, and how it has dedicated its mandate to empowering young senior-high school leavers to desire science-related courses, employing the most innovative models in teaching them.
"We endeavor at ASA to change the mindset and appreciation that girls give to subjects in the sciences by challenging them to think differently in solving complex things," she added.
Efua Adabie threw a challenge to the teachers to also incorporate thoughts on gender-based ideas such as on equity, equality and social inclusion in their teaching modes.
Levina Ansong Owusu, Mathematics teacher and Head of Academics at ASA, shared in-depth lessons and strategies for teaching and learning, explaining what differentiation means and how it can play a major role in the comprehension levels of their students.
Using practical examples and some successful models that ASA employs in transforming the learning processes of their students, she showed them on how they can also infuse same in their lessons.
A lecturer at the Department of Basic Education of the University of Cape Coast, Dr. Foster Ntow took the participants through a diagnostic test, allowing the teachers to experience how it feels liketobeinthe shoes of their students, while guiding them in understanding that there are variations in studying and its comprehension.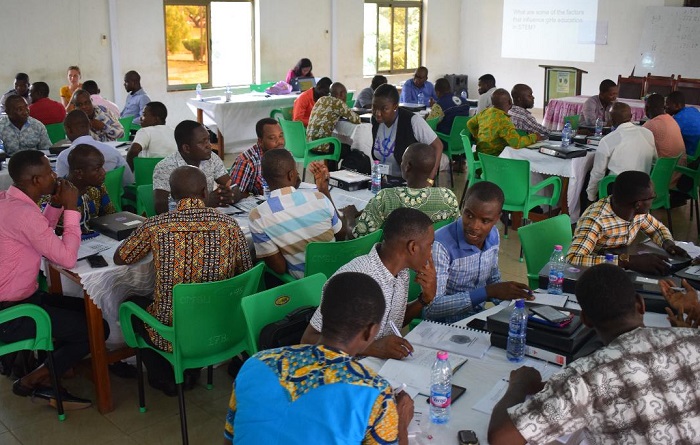 A cross section of the teachers engaged in an activity session during the Masterclass which took place at the Mawuli School, Ho. 
Madam Eunice Osei-Asibey, Head of Department, Math and ICT, Ada College of Education, addressed the subject of Data for Improving Instruction, helping the teachers answersuch questions as, Why do we assess our students? How do we assess our students? 
Interacting with participants after the event, they expressed their great appreciation to the organizers of this program and acknowledged the benefit of the program in their mathematics teaching going forward.
Also in attendance was a deaf Mathematicss teacher (with interpreters) from the Tetteh Ocloo School for the Deaf to foster inclusion and diversity.
Other topics discussed were Geometry and Measurement: Conceptual Understanding to Procedural Fleuncy; Practical Math Activity Selection, Engaging the Learner; and Assessment in Math Instruction.