Vice-President Dr. Bawumia cutting the sod in Jasikan yesterday
Vice-President Mahamudu Bawumia yesterday engaged in a ground-breaking activity for commencement of work on the Hohoe-Dodo Pepease-Jasikan road — a part of the abandoned Eastern Corridor highway.
The activity has a crashing effect on the propaganda being perpetrated by opposition elements that roads in the Volta Region are not receiving attention from government.
It is part of the dividends from the much-bashed Sinohyrdro funds from China, something the opposition National Democratic Congress (NDC) lobbied hard to drown, but the campaign failed. The funds are in and in the next few days, the Vice-President will be busy across various parts of the country cutting sods to flag off commencement of work on major game-changing projects.
Lined up for the sod-cutting activities are the abandoned inner roads of the tourist former capital of the Gold Coast, Cape Coast.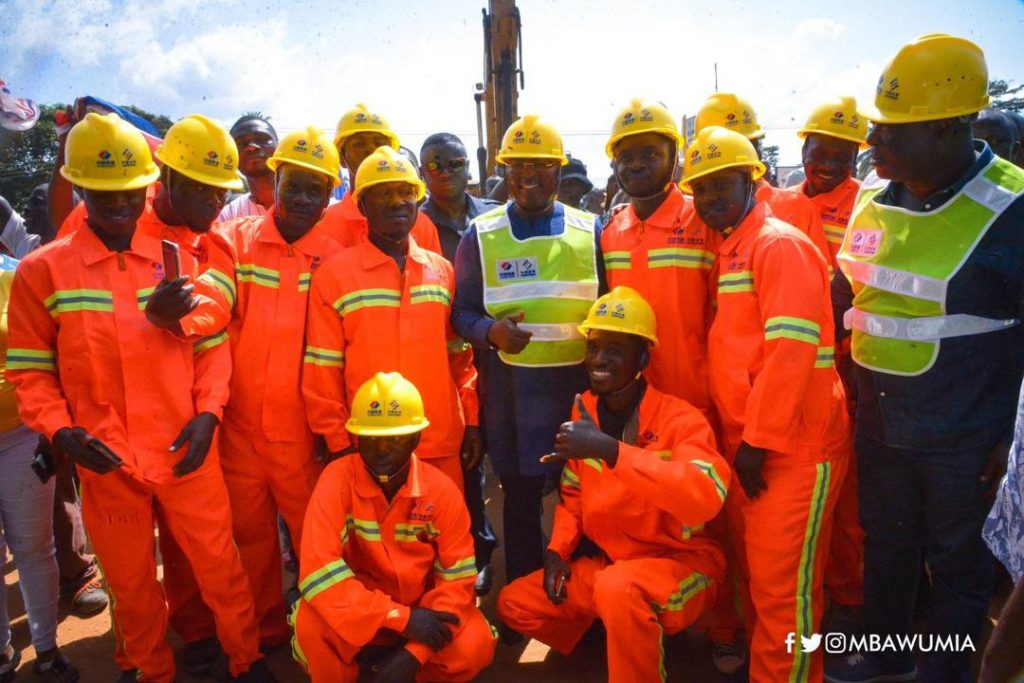 Cape Coast is home to many historical castles which attract thousands of tourists from especially America, who troop to the place to have a glimpse of the slave dungeons.
The upgrading of the abandoned inner roads of the ancient town would go a long way to enhance tourism.
Following in the long list of sod-cutting events is that of the construction of the Nyinahin roads.
DAILY GUIDE has gathered that other infrastructural projects all under the Sinohydro funds will be made public soon.
For those who stood against the barter arrangement for bauxite with the Chinese, this is not music in their ears.
Not only have the funds been released, but also dividends originating from them are becoming manifest.
The journey to this stage of the country's quest for funds to undertake infrastructural developments has been rough, full of sneers and jeers from the opposition.
Observers of the development said the changes that the funds would effect under prudent management would visit on the government massive leverage at the polls.
Not even a formal correspondence to the International Monetary Fund (IMF) to block the deal worked and the Minority was humiliated.
The opposition claimed that government would destroy the Atewa forest through the exploitation of the reserve, another propaganda effort to block the deal.
The President and his team have cause to smile as those who stood against the Sinohydro deal will now retreat to their burrows, with tails tucked between their hind legs.
By A.R. Gomda