The Family Health Hospital has re-opened its Renal Dialysis Unit. The newly refurbished unit has been upgraded with six ultra-modern dialyzers to provide optimum haemodialysis for clients in a relaxing and comfortable environment. Located within the premises of the Family Health University College (FHUC) the unit has modern essential life support equipment, which includes monitor defibrillators for managing emergencies. It also has a dedicated dialysis water purification plant.
In an address, Dr. Rebecca Acquaah-Arhin the Medical Coordinator of Family Health Hospital said that the Hospital has embarked on massive upgrading and expansion projects to meet world-class standards. She emphasized the hospital's commitment to delivering comprehensive healthcare services to clients. She also expressed concerns about the insufficient dialysis treatment facilities in the country, hence the decision of the Founders of FHUC to invest in the Unit.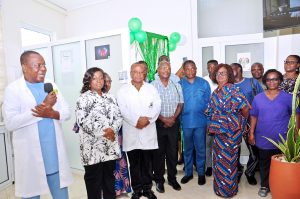 Prof. Enyonam Kwawukume, Founder and President of FHUC tasked the staff to deliver excellent professional services to all clients at the Renal Dialysis Unit and at the entire Family Health Hospital. He reminded them to be empathetic at all times, whilst maintaining high ethical standards. He added that the vision to have a Dialysis Unit at the Hospital had always been one of his key desires. He reiterated the Hospital's commitment to providing comparatively affordable treatment for all patients with kidney-related problems who require such services.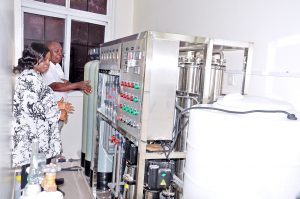 The upgraded unit received glowing reviews from clients. The clients complained about financial challenges associated with their treatment elsewhere; they however expressed their gratitude to the Management for the affordable fee offered to them at such a modern facility at the Family Health Hospital.
Kidney dialysis is the process of removing excess water and toxins from the blood of people whose kidneys are unable to perform these functions adequately due to kidney disease or complications arising from other medical conditions.
Unfortunately, kidney disease is on the rise, so more and more people require dialysis services. The public is entreated to learn more about kidney health and take the necessary precautions for prevention.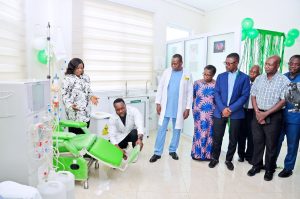 With years of experience in running the Dialysis Unit, and with expertly trained health professionals and technicians, clients can be assured of the best possible service. Dialysis is a minimally invasive process that lasts for a few hours per session.
Clients can usually go home on the same day after the procedure. Management by dialysis is only done upon instruction by medical doctors. The FHH Dialysis Unit is open to the general public.
The ceremony was attended by faculty and staff of the Family Health Medical School, the Family Health School of Nursing and Midwifery and the Family Health Hospital.