Funny face
Comedian, Funny Face, has escaped unhurt after his car was involved in an accident on Saturday at Bunsu Junction, along the Accra-Kumasi highway.
The 'Cow & Chicken' actor was travelling to Kumasi to visit his baby mama Vanessa and their children when the unfortunate incident occurred.
In an Instagram post to announce the accident, he shared a video of his white Porsche with registration number SEA 1 -13, given to him by Togolese footballer, Seyi Emmanuel Adebayor, in 2020.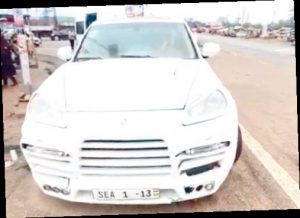 Funny Face's car
The bumper of the car was damaged alongside broken rims which caused three of the car's tyres to burst.
According to Funny Face, he was crossed by a long truck and that forced him to veer off the road, hitting the pavement leading to the car flying in the air.
"The car went into the sky, I thought I was dead but God said he has reason to give me a second chance," he said in the video.
"I was crossed by an 'Articulator' I had to swerve him… Nearly died!! Hmmm… WHO JAH BLESS NO MAN CURSE!! NANA YAW ODURO BOATENG BENSON RICHMOND … you have suffered in dis (this) life. BUT JEHOVAH will always watch your back!! Forever to JEHOVAH alone be da (the) glory," he added. Funny Face has since been thanking God for keeping him alive.
He revealed part of his mission to Kumasi was to apologise to Vanessa's mom and dad.
By Francis Addo