Apostle Professor Opoku Onyinah
THE INTERNATIONAL Justice Mission (IJM), in collaboration with the Bible Society of Ghana (GBS) has held a one-day national conference on social justice and child trafficking.
The conference, held in the Bank of Ghana Auditorium at the University of Ghana, Legon, was attended by an array of high profile dignitaries from various religious, political and socio-cultural backgrounds.
It was chaired by Apostle Professor Opoku Onyinah, former Chairman of the Church of Pentecost, with the Second Lady, Samira Bawumia being the special guest of honour.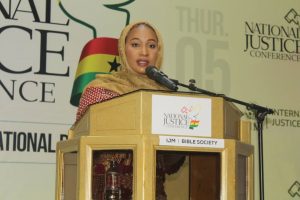 Second Lady Samira Bawumia
Delivering her keynote address, Samira Bawumia, noted that the fight against injustice and child trafficking was one that required a multi-faceted response, adding that, Ghana has adopted procedures and measures to ensure that the menace was curbed in the shortest possible time.
"There is no excuse for us to have so many children trafficked on the Volta lake. Instead of being educated, these children are abused and exploited. They are our future and we must end the exploitation on that Lake and provide them with the needed environment and services to thrive", she stated.
She urged the general public to come together and help in the fight against social injustice and child trafficking.
In his address, Apostle Onyinah stated that, the concept of social justice started as far back as the Old Testament with the deliverance of the Israelites from Egypt, adding that it continued in the New Testament as evidenced by Jesus always being on the side of the poor, children and less privileged.
He counseled that as part of the Church's role in fight against social injustice and child trafficking, there was the need for the Church to engage society on the dire consequences of such phenomena, and also assist in some areas such as poverty alleviation.
Touching on advocacy, he said "the Church needs to do serious business of advocacy else the rich will cheat the poor; the powerful will oppress the powerless and the landlord will exploit the tenant."
"As a Church, we need to raise the alarm and speak for and act for those who cannot speak and act on their own," he said.
"Social Justice began in the Old Testament and was climaxed in the New Testament in the person of Jesus Christ. Let us spearhead the move for social justice", he charged.
Deputy Minister for Gender, Children and Social Protection, Freda Prempeh also remarked that, collaborating with the Church in the fight against social injustice is "very critical."
Targeting the Church, she said, is a sure tool in ending human trafficking and charged the participants to "stand up and preach the good news" of social justice.
She assured that government is committed to the cause of social justice and will continually support its move for the Better Ghana Agenda.
By Nii Adjei Mensahfio