PRESIDENT AKUFO-Addo has described the late Rt. Hon. Justice Robert Samuel Blay (R.S. Blay) as a great patriot whose vision and energy were devoted towards the creation of independent Ghana.
The President, who was speaking Friday at a public lecture organised at the Bisa Aberewa Museum in Sekondi to honour Rt. Hon. R.S. Blay and mark his 121st birthday, stated, "Those of us who are the heirs of his work, always have to remember, acknowledge and praise him. This is because without his intervention and that of others, we wouldn't have been where we are now."
The President continued, "We are here to pay tribute to a worthy ancestor and a great patriot of our country."
He lauded the children and family members of R.S. Blay for honouring their father with a public lecture.
Freddie Blay, Chairman of the New Patriotic Party (NPP), who also chaired the occasion, described R.S. Blay, his uncle, as very humble.
"R.S. Blay was the gentleman's gentleman, and was a father or Papa to all," Freddie Blay pointed out.
Dr. Mokowa Blay Adu-Gyamfi, a daughter of R.S. Blay, explained that the choice of Sekondi as the venue for the maiden lecture was because her father started his political and legal career from Sekondi.
Nana Kobina Nketsiah V, Omanhene of Essikado, who delivered the lecture, confirmed that Justice R.S. Blay, Paa Grant, Francis Awoonor Williams, and Dr. J. B. Danquah, initiated the idea of forming the UGCC.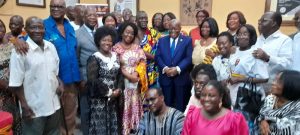 President Akufo-Addo (middle) in a group photograph with the Blay family
He said Rt. Hon. Justice R. S. Blay was the first Nzema legal practitioner and a former Justice of the Supreme Court of Ghana, as well as Speaker of the first Constituent Assembly of Ghana in 1969.
He was also the first President of the Ghana Bar Association.
The lecture also highlighted the special role played by the people of Western Region in the struggle for Ghana's independence.
It also provided the platform for objective and critical analysis of the varied and various contributions by Gold Coast and Ghanaian patriots.
FROM Emmanuel Opoku, Sekondi