Rev. Dr. Joyce Aryee, a Communications Expert and Business Executive has lamented about the dwindling reputation of the country due to poor communication management of key state institutions, individuals and private organizations.
She observed that instead of projecting the many good things about Ghana; the 'Eden that God promised', many who should know better are destroying her with their words and actions.
She said it was time to protect the hard-earned reputation of the country to build lasting relationships and global relevance.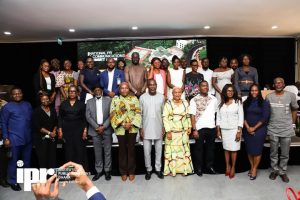 According to her, "If Ghana does not do well you and I are not relevant anywhere. No matter your achievement, you can be ignored."
Madam Aryee made the observation during the 2022 National Public Relations (PR) and Communications Summit of Institute of Public Relations (IPR), Ghana.
The summit which was on the theme; "Truth Well Told and Shared," was held over the weekend at the Volta Hotel in Akosombo.
She stressed that PR professionals are key to national development, since they worked in different areas of the Ghanaian economy.
"As Ghanaians and as PR practitioners, we must make sure that the reputation of Ghana is well kept," she said.
This is because, "it is the only country we have. If you go to the UK and you get citizenship, they will call you a Ghanaian British. If you go to the United States, they will call you a Ghanaian American. You can never run away from your 'Ghanaianess'."
She observed that "It's a beautiful country. I think it is the Eden that God promised. It has everything- minerals, beautiful rivers, and nice people. But gradually we are destroying it."
Madam Aryee reminded practitioners that the three pillars of PR; Reputation management, relevance and relationship building are founded on the truth and not lies or spinning as some believe. This is because anything (Image of organizations or individuals) built on lies loses its relevance overtime as it builds a negative reputation and destroys relationships (trust).
"We are destroying it with our words. We are destroying it with our actions. The truth about Ghana must be told and each truth about Ghana involves you and it involves me. And wherever we are working, that should be one of the most important things- Ghana's reputation," The Founder of Salt and Light Ministries said.
She, therefore, charged PR practitioners, the media and others in the communication field to put their best foot forward in building the right reputation of the country, devoid of tribalism, politics, religion and other divisive tendencies.
The President of IPR, Mawuko Afadzinu, supported Madam Aryee's call to action by urging his colleagues, particularly those whose work has direct interface with their entire citizenry to shape national issues appropriately to win public support for national development programs like the e-levy and sim card re-registration.
According to him, Ghanaians will understand the difficulty of the times and make the right sacrifices to ensure the greater good, if they are made to understand the truth and issues promptly.
Ms Fatimatu Abubakar, Deputy Minister of Information commended the institute for pushing for higher standards in the PR and communication space. She observed that the government's collaboration with PR practitioners has led to the adoption of several PR tools" to deepen its relationship with the citizenry. Some of which include, town hall meetings, Ministers' press briefing series, media training among a host of public and media engagements.
She commended the Institute for its support for the successful implementation of the nationwide media capacity enhancement program which will enhance government and public collaboration towards national development agenda.
The summit which attracted practitioners across the country and beyond also saw the induction of 70 new members and special awards presented to practitioners and organizations who distinguished themselves in the year under review.
From Fred Duodu, Akosombo (k.duodu@yahoo.com)