The University of Mines and Technology (UMaT) Tarkwa, in the Western Region, has awarded the Executive Director of Rocksure Limited, Kwesi Enyan, an Honorary Doctorate Degree.
Dr. Enyan was one of the two distinguished Ghanaian personalities recently awarded with doctorate degrees by the University. The other recipient was an astute politician, former Minister of Justice and Attorney-General, Joe Ghartey.
Dr Enyan was awarded for his contributions to the mining industry in Ghana and his support towards the expansion of mining education in the country.
A former Managing Director of Anglo Gold Ashanti, Obuasi Mine, Dr. Enyan, according to UMaT, is an accomplished captain of the mining industry with years of vast experience and excellent professional acumen.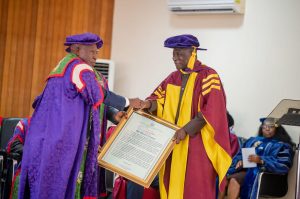 He is also an Executive Director of Rocksure International Ltd, a fully owned Ghanaian company which has mining interests in a number of countries.
Rocksure is also developing one block out of the three blocks of bauxite at Nyinahini.
Dr Enyan is also the Chairman of the Board of Directors of Justmoh Construction Ltd, one of the leading Ghanaian construction companies.
On the part of Joe Ghartey the University described him as a "distinguished statesman, sterling attorney, academic, current MP for Essikado-Ketan Constituency and former Minister of State who immensely contributed to the development of the railway industry in Ghana and the establishment of the UMaT School of Railways and Infrastructure Development."