A gory accident that occurred at Dompoase in the Komenda-Edina-Eguafo-Abirem municipality of the Central Region yesterday claimed 34 lives and injured several others.
The heart-wrenching accident, which occurred at about 12:15 am on Tuesday, involved a Man Diesel truck with registration number GR 5704-18 which was travelling from Takoradi towards Cape Coast and a Hyundai bus with registration number GN 3780-10 which was heading for Takoradi from Cape Coast.
According to eyewitnesses, the Hyundai bus on reaching a curve at Dompase on the Takoradi-Cape Coast highway tried to overtake a vehicle in front of it.
"So in an attempt by the Man Diesel bus which was moving in the opposite direction to swerve, it collided with the Hyundai bus killing 29 people instantly and five later at the Cape Coast Hospital," the eyewitnesses said.
They added that both drivers died instantly, with one of them having his head completely chopped off.
According to them, it took some personnel of the Ghana National Fire Service (GNFS) from Cape Coast to rescue some of the injured while the mutilated bodies of the dead passengers were conveyed to the hospital.
They alleged that some of the deceased persons were believed to be Ivorians who were travelling from Accra to Takoradi and probably to continue their journey to Cote d'Ivoire.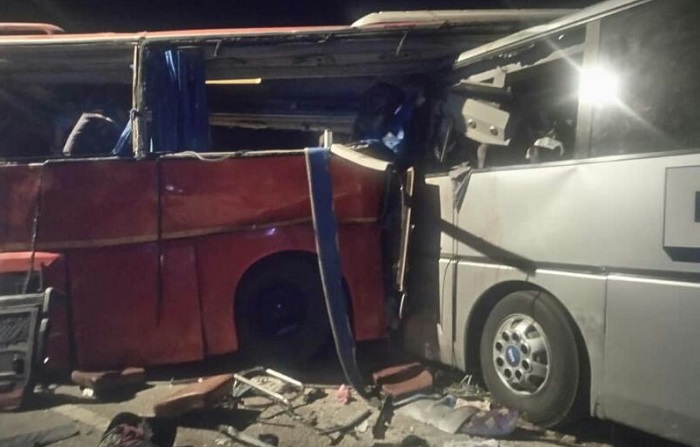 Speaking to DAILY GUIDE, the Public Relations Officer of the Cape Coast Teaching Hospital, Fred Nyankah, confirmed that a total of 34 people died in the accident and their bodies deposited at the hospital morgue.
He explained that the deceased included 20 males, 11 females and three children — one boy and two girls.
Besides, he indicated that about 54 others, who sustained various degrees of injury, were receiving treatment at the accident and emergency unit of the hospital.
He appealed to people whose relatives were travelling from Accra to Takoradi or vice versa on Tuesday but had not heard from them to visit the hospital to ascertain whether they were part of the victims.
From Emmanuel Opoku, Takoradi