H.E Lu Kun, Ambassador of China to Ghana, presenting his Letters of Credence to President Akufo- Addo at the Jubilee House in Accra
Six new foreign envoys yesterday presented their letters of credence to President Akufo-Addo to commence their duty tour of the country.
They are the Ambassador of Korea to Ghana, Lim Jung-Taek; the High Commissioner of Canada to Ghana, Kathleen Csaba; the High commissioner of Namibia to Ghana, Selma Ashipala-Musavyi; the Ambassador of Mexico to Ghana, Enrique Ernesto Escorza Zamudio; the Ambassador of China to Ghana, Lu Kun; and the Ambassador of Austria to Ghana, Thomas Schlesinger.
At a meeting at the Jubilee House, the Korean Ambassador talked about the bilateral relations between both countries which dated back to 1977.
He commended government's policies and initiatives to pursue a "Ghana beyond aid' agenda.
While he admitted that it might not be an easy task, he was of the belief that with the exceptional leadership qualities exhibited by President Akufo-Addo coupled with hard work and dedication, Ghana could achieve it.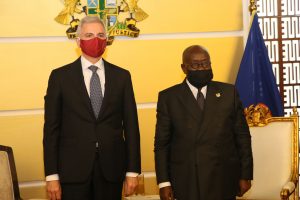 President Akufo-Addo with H.E Thomas Schlesinger, Ambassador of Austria to Ghana
As Ghana consolidates its status as a middle-income country and plays a key role in the implementation of the African Continental Free Trade Area (AfCFTA), the Canadian High Commissioner said they remained a committed partner.
"Canada is hopeful that our bilateral trade and investment will continue to grow, particularly in sectors such as extractives, infrastructure, clean technologies and renewable energy, where Canada has significant strengths," was how she put it.
The High Commissioner of Namibia said the birth of the AfCFTA would pave way for effective bilateral trade among both countries.
The Ambassador for Mexico also pushed for stronger bilateral trade between both countries for the good of their respective citizens.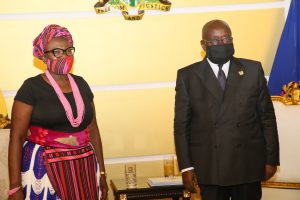 President Akufo-Addo with H.E Selma Ashipala-Musavyi, High Commissioner of Namibia to Ghana
The Austrian Ambassador could not hide his government's excitement about Ghana's decision to open an Embassy in Vienna with a resident Ambassador for the first time in many years.
He therefore promised to strive to further strengthen and deepen ties between both countries.
On his part, the Chinese Ambassador talked of the solid relations between both countries which had led to many developmental projects and assistance to Ghana as Ghana's biggest trading partner, with a promise to exert his efforts to deepen the friendship and expand the cooperation between them.
President Akufo-Addo wished each and every one of the envoys a successful duty tour of the country with a promise to do whatever it took to make their stay enjoyable.
By Charles Takyi-Boadu, Presidential Correspondent