Alexander Afenyo-Markin
Alexander Kwamena Afenyo-Markin, who represents Effutu in Parliament and serves as Deputy Majority Leader, has expressed his condolences after 16 people lost their lives in a fatal road accident on Tuesday, May 30 at Gomoa Okyereko.
Mr. Afenyo-Markin said in a statement that his heart is heavy following the tragedy, which saw a Yutong bus collided head-on with a fuel tanker, resulting in the fatalities and injuring 40 others. The injured passengers were taken to Trauma and Specialist Centre in Winneba for treatment.
The MP's statement read, in part, "It is with a profound sense of sorrow and heartfelt sympathy that I extend my deepest condolences, sympathies, and well wishes to the families, friends, and loved ones affected by the tragic accident that took place at Gomoa Okyereko on the Accra-Cape Coast road in the early hours of Tuesday. Today, my heart is heavy as we mourn the loss of sixteen precious West African lives. In this time of immense grief, I extend my sincerest condolences to the bereaved families. May you find solace and strength in the cherished memories of your loved ones, and may their souls rest in eternal peace. Please know that you are not alone in these trying times".
Afenyo-Markin expressed appreciation to the firefighter and ambulance service crews for their brave efforts. "I would like to extend my utmost appreciation and admiration to the valiant rescue teams from the Ghana National Fire Service and the Ghana Ambulance Service. Your unwavering dedication and selflessness in the face of adversity reflect the finest qualities of service and bravery," he said.
He also wished those receiving treatment a speedy recovery, saying "To the brave individuals who survived this harrowing incident and are currently undergoing treatment at the Winneba Trauma and Specialist Hospital, please accept my sympathies and well wishes for a speedy recovery. Your resilience and courage inspire us all".
Find copy of the statement below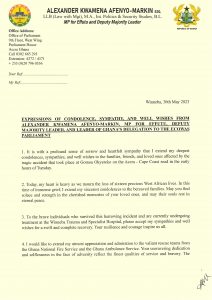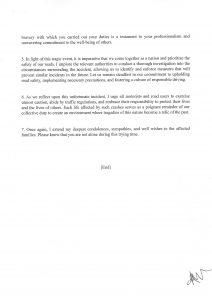 By Vincent Kubi