The African Union Commission has expressed displeasure with the unrest in South Africa.
South Africa has experienced days of deadly riots over the jailing of former President Jacob Zuma.
About 72 people, according to local media reports, have died so far in the riots.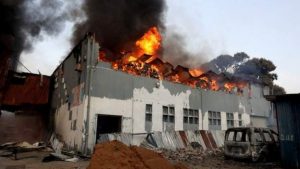 There have been reported looting and destruction of property in some provinces in South Africa.
"The [AU commission Chairperson] Moussa Faki Mahamat, condemns in the strongest terms the surge of violence that has resulted in the deaths of civilians and appalling scenes of the looting of public and private property," the African Union commission observed in a statement.
"The chairperson calls for an urgent restoration of order, peace and stability in the country in full respect of the rule of law," the statement added.
By Melvin Tarlue