Harold Poelma
CARGILL HAS completed a US$13 million expansion of its cocoa processing capacity in Tema, expanding the company's cocoa-grinding capability to follow growing consumer demands for cocoa powder.
In recognition of the achievement, the President of Ghana, His Excellency Nana Akufo-Addo, attended the ceremony as the Special Guest of Honour. He was received by an executive team led by Harold Poelma, President of Cargill Cocoa & Chocolate.
The multi-million-dollar investment started sixteen months ago and increased the plant's grind capability by 20%, bolstering its annual production capacity to 90,000 tonnes.
The initial nameplate capacity of 65,000 tonnes was pushed to 75,000 tonnes through efficient management by the Ghanaian team, giving room for the expansion.
This latest investment is the culmination of Cargill's 13 years of operational presence in Ghana, during which the direct and indirect employment at the plant grew from 400 to 530.
Cargill's Harold Poelma explained that the project, which was sparked by the growing global demand for cocoa, also supports the company's long-term commitment to continuously invest in the cocoa sector and create more opportunities within the value chain.
"This kind of investment can serve as an engine to jump-start new economic activities," Poelma said. "It is part of our ongoing effort to build sustainable, local agri-food businesses, diversify revenue streams and support a thriving cocoa sector."
He added that the plant expansion project aligned with the Ghana government's vision to accelerate economic progress through industrialisation whilst improving the welfare of farmers and solidifying the country's position as one of the world's largest producers of cocoa.
President Akufo-Addo, in a keynote address, highlighted "I want to congratulate the management and staff for their significant contribution to the success of this company," he said. "The commissioning of this expansion today underscores the importance of the private sector to government's industrial transformation programme."
He further reflected on the impact that Cargill Cocoa & Chocolate has made in the country in creating a more sustainable cocoa sector and acknowledged that the plant expansion will present an avenue for economic development.
"I'm of the firm conviction that industrialisation of private sector development is a great opportunity to expand the economy and create more jobs, particularly for our young people. I also believe that for this country to develop rapidly there is the need for deliberate attempts to add value to our natural resources. It is against this background that I would like to commend Cargill for what they are doing in our cocoa sector," the President said.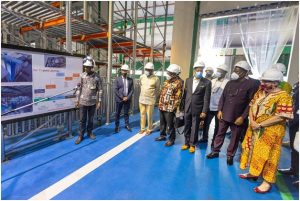 Some dignitaries on a tour of the expanded plant
Plant Manager, Richard Adjei, in a short address, praised the highly skilled Ghanaian team which run the plant.
"I am happy to note, ladies and gentlemen that this plant which is now the biggest cocoa processing plant in Ghana, is run and managed 100% by Ghanaians. Our staff here is the reason we are where we are today, and Cargill Ghana is an example of Ghanaian expertise and efficiency and by that our staff earned the right to grow the plant," Mr Adjei remarked.
Alongside the commissioning of the Tema processing facility, Cargill highlighted other efforts to support sector transformation and social impact, in partnership with state agencies such as COCOBOD and key stakeholders such as ICI, CARE International, Solidaridad, Safe Water Network Ghana, and many others. In total, Cargill has provided GH¢12m funding and support for nearly 70 local community-identified projects across the country.
Aedo van der Weij, Managing Director, Cargill Ghana, said "Establishing close partnership with government agencies, technical partners and local community leaders enables us to make meaningful impacts in the communities where we do business. A vision that is shared with our stakeholders helps guide our efforts in creating a sustainable cocoa supply chain. Working together, we can achieve far more than we ever could alone."
In that spirit, he said Cargill continues to drive progress in the areas of farmer resilience, community well-being, environment, and transparency, delivering lasting impact across the value chain.
With the use of GPS polygon mapping and a Cooperative Management System (CMS) through its CocoaWise™ digital platform, it has introduced technology-based traceability and bolstered accountability in its Ghanaian supply chain from farmgate to factory. Its reputation as a leading and reputable player in the cocoa industry is strengthened by its commitment and efforts to address complicated issues such as child labour and deforestation.
Other dignitaries at the event were H.E. Stephanie Sullivan, US Ambassador to Ghana, Hon. Michael Okyere Baafi, Deputy Minister of Trade and Industry, Peter McManu,  Board Chair of COCOBOD, the immediate past chair Hackman Owusu Agyemang, the Joseph Boahene Aidoo, Chief Executive of COCOBOD, and his deputy Dr Emmanuel Opoku. Also present were executives from the Free Zones Authority and Cargill partners and key stakeholders including ICI, CARE International, Solidaridad, Safe Water Network Ghana and many others.