Chinese government has expressed it readiness to help Ghana in addressing its current debt challenges.
The Chinese authorities also gave strongest indication of more China-Ghana investments for mutual benefits in line with Sino's win-win foreign investment policy.
They further pledged to continue to support Ghana's medium and long-term developmental aspirations.
The Chinese Finance Minister Liu Kun gave the assurance when Ghana's Finance Minister, Ken Ofori-Atta led a delegation to engage China over a $1.7 billion debt.
"China believes in promoting debt sustainability and sustainable development.
"We know that these are short-term challenges which we as responsible creditors remain committed to resolving. The long-standing and prosperous relationship between Ghana and China imposes on us, a responsibility to help," " Liu Kun stated.
He added "Chinese authorities have confidence in Ghana's economic management and its long-term economic viability."
Ken Ofori-Atta, the Finance Minister highlighted to the Chinese the need for Ghana's Fund programme which required steep fiscal adjustments, debt restructuring, and financing assurances.
Mr. Ofori-Atta outlined how Ghana went through a painful but necessary Domestic Debt Exchange Programme, with an 85 per cent participation rate.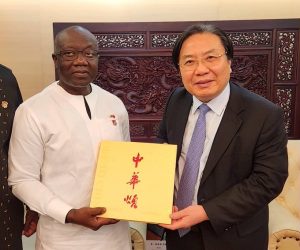 He described it as the demonstration of the country's preparedness to take the necessary action to readjust its fiscal path.
Prior to this, Mr. Ofori-Atta mentioned that Ghana's enegament with the China authorities of the West Africa nation's debt have been positive and encouraging.
He said he had travelled to Beijing on Wednesday to meet Chinese authorities to discuss a proposed restructuring of Ghana's debt, according to a source with knowledge of the talks.
Following that statement, the Chinese authorities also stated on Thursday March 23 of it preparedness to engage more with Ghana to seek a proper resolution of Ghana's debt issue, its foreign ministry said.
Ghana, which is struggling with its worst economic crisis in a generation, secured a staff-level agreement with the International Monetary Fund (IMF) in December for a $3 billion loan, though asking lenders to provide financing assurances is a condition for the IMF's board to sign off the programme.
China is Ghana's biggest bilateral creditor with about $1.7 billion of debt.
The government's current priority is to secure IMF board approval, with the fine details of debt treatment operations to follow later, the source added.
By Vincent Kubi