President Akufo-Addo and Vice-President Dr. Bawumia responding to cheers from beneficiaries after the ceremony
President Nana Addo Dankwa Akufo-Addo has charged the various ministries, departments and agencies (MDAs) under whose domain the Nation Builders Corps (NABCO) is receiving various forms of training, to consider NABCO trainees first for full-time employment when there are opportunities.
He believes that is the best way to reward their sense of commitment, service and hard work to the nation.
"Recognize and reward the sacrifice made by trainees. They should be the first to be considered when opportunities for permanent employment come up," he said this yesterday when he launched the NABCO Skills and Talent Academy as part of events earmarked for the one year anniversary celebration of NABCO in Accra.
"Indeed, as the economy of our nation grows rapidly, largely as a result of competent management and appropriate policies, many more employment opportunities will be generated," he assured his audience.
Considering how far NABCO had come and the steps being taken, President Akufo-Addo said "I'm left in no doubt that we can be a nation reliant on the creativity, hard work, sense of enterprise and spirit of innovation."
"We can move Ghana to a situation beyond aid; a Ghana that has discarded the mindset of aid, dependency, charity and handouts, charting the path of self-reliance for our progress and prosperity, grounded on an intelligent disciplined use of our considerable human and material resources," he stressed.
Even before the President arrived at the National Theatre, the venue for the event, a guard of honour made up of NABCO trainees in its Revenue Mobilisation module dressed in uniforms similar to those of the officers and men of the Ghana Revenue Authority (GRA) had been formed for his inspection.
Even though time constraints did not allow for that part of the programme to take place, President Akufo-Addo was surprised at the reception he received when he entered the main auditorium of the National Theatre.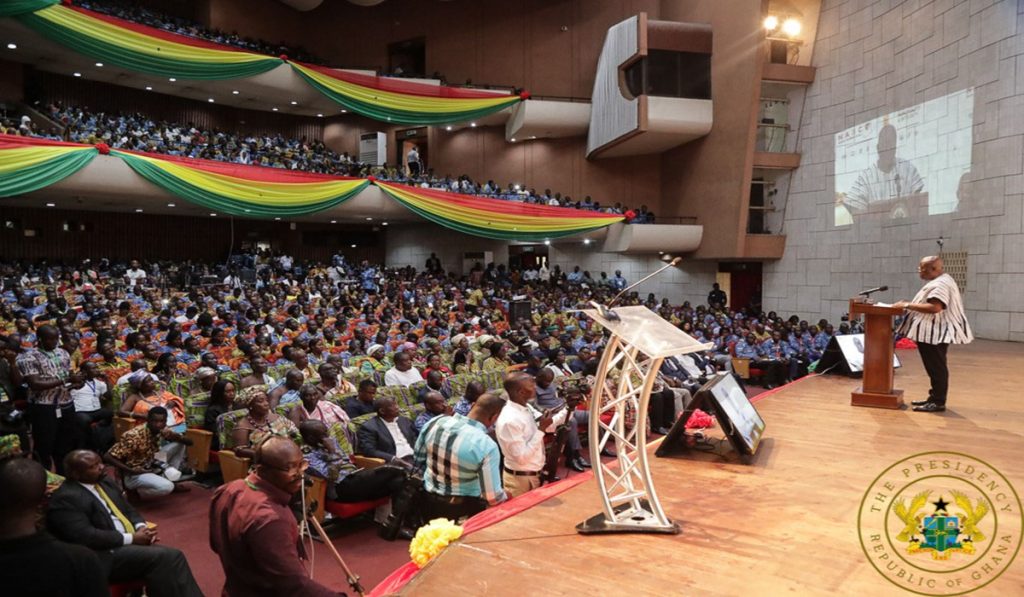 Just when the Deputy Minister of Information, Pius Enam Hadzide, who was the Master of Ceremonies (MC) announced his arrival, the entire room which was filled to capacity went agog amidst chants of 'Addo show boy!', 'Nana oo, Nana oo!' and 'Adwumawura!', with spontaneous applause.
For them, but for the Akufo-Addo administration they would have still been at home hence they were grateful for the opportunity given them to work and earn a living.
On his part, the Chief Executive Officer (CEO) of NABCO, Dr. Ibrahim Anyars, said with time, many of the trainees would find their career pathways, insisting that the scheme offers a certain security which allows for clarity of thought on their future.
So far, some 100,000 graduates who were jobless are said to have benefitted from the various NABCO programmes in the areas of Information Technology (IT), Revenue Mobilization and many more.
By Charles Takyi-Boadu, Presidential Correspondent