Eastern Regional Minister, Seth Kwame Acheampong, has assured the people of Krobo and the region in general that the government will spearhead the development of the area without delay.
According to him, the region's proximity to Accra has made it a potentially viable destination for investment.
He, therefore, urged the chiefs, Municipal/District Assemblies, and other stakeholders to put appropriate plans, taking into consideration sanitation, physical planning and sustainable peace, to be able to attract the needed development.
The Regional Minister made the statement when he cut sod for the construction of a three storey Business Resource Centre building as well as the construction of 1.2km road at Odumase Krobo, in the Lower Manya Municipal Assembly under the 2020 Urban Development Grant (UDG), which is a component of the Ghana Secondary Cities Support Programme (GSCSP).
The Municipal Chief Executive for the area, Simon Tetteh, for his part, lauded the President for his commitment to the development of the municipality, and indicated that the two projects which have contract duration of ten months were aimed at improving economic activities and the standards of living of the people.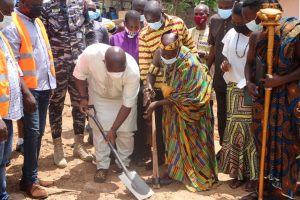 The ER Minister at the ground breaking ceremony
He said the assembly would collaborate with the contractors to ensure that they deliver quality work that would serve both current and future generations.
Mr. Tetteh said the assembly has been able to extend the Rural Electrification Project in the municipality through the Ministry of Energy and revealed most of them have been commissioned.
He said the Municipality is benefiting from the government flagship programme of 'Planting for Food and Jobs', as well as also benefiting from the Planting for Export and Rural Development (PERD) programme.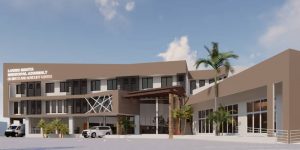 He also said that the current effort to turn the Agormanya Market into a modern market with 300 lockable stores, 2,500 sheds, a police station, a crèche, and a banking hall forms part of the assembly's share of the 25-District $100 million Ghana Secondary Cities Support Programme.
The Paramount Chief of Manya Krobo Traditional Council and the President of Eastern Regional House of Chiefs, Nene Sakite II, through the Asafoakye of Manya Krobo Traditional Area, Nene Teye Ajisu III, expressed appreciation to the President for his commitment to the development of the area, and appealed to the minister to use his office to ensure that all ongoing projects are completed on schedule.
FROM Daniel Bampoe, Odumase – Krobo