President Akufo-Addo with Stephanie Sullivan (left) and husband
PRESIDENT AKUFO-Addo yesterday conferred a state honour on the outgoing United States Ambassador to Ghana, Stephanie Sullivan.
This was after she had successfully completed her duty tour of the country.
Ms Sullivan was decorated with The Grand Medal of Ghana, one of the country's prestigious national honours.
In a brief statement, the President said the relations between Ghana and the US, during her tenure, was remarkably improved and further helped to enhance relations in the areas of trade, health, agriculture, and security.
"We have witnessed significant expansion and consolidation of ties between our two periods," he said.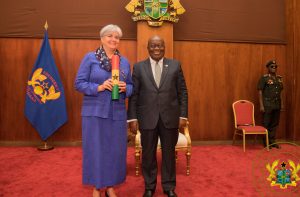 President Akufo-Addo also commended the efforts of Ms Sullivan in helping Ghana to improve on her governance systems, especially the quality of its electoral systems with a special mention on the support that Ghana received to undertake the most transparent elections in the Fourth Republic in 2020, which he said "enabled us to cement our reputation as a beacon of democracy."
He said Ghana had been inspired by the tenets of the "Jeffersonian democracy" of the United States which has guided her nurturing of a democratic values and institutions, respect for rule of law, human liberties and freedoms.
He further thanked the Ambassador for supporting Ghana to access COVID-19 vaccines from the US government.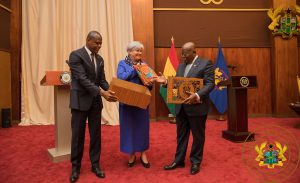 Sullivan, on her part, thanked the President, the government and people of Ghana for giving her such recognition.
She was hopeful her successor would continue to "water the seedlings we planted in my time, as well as plant new crops."
She, thus, expressed gratitude that her work in the country made a difference in the lives of Ghanaians in the areas of public health, literacy, clean water, agri-business, peace, security, as well as providing electricity to millions of Ghanaians.
BY Charles Takyi-Boadu