President Akufo-Addo consoling Nana Konadu Agyeman-Rawlings
President Akufo-Addo yesterday visited former First Lady, Nana Konadu Agyeman Rawlings at the Rawlings' Ridge family home in Accra to commiserate with her on the death of her husband, former President Flt. Lt. Jerry John Rawlings.
Mr. Rawlings, who ruled Ghana for almost 20years and handed over to President Kufuor in 2001, died last Thursday.
President Akufo-Addo issued a statement announcing the death, and later received the family of the deceased at the Jubilee House, who officially informed him of the passing away of their kinsman.
As part of Ghanaian tradition, the President visited the widow, Nana Konadu yesterday morning.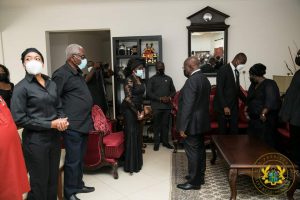 Govt Delegation
He was accompanied by Vice-President Mahamudu Bawumia, Second Lady, Samira Bawumia, Chief of Staff, Frema Osei Opare, National Chairman of the ruling New Patriotic Party (NPP), Freddie Blay, Minister for Communications Ursula Owusu Ekuful, Deputy Chief of Staff, Francis Asenso Boakye, National Security Advisor, General Okyere,  and Ghana's Ambassador to China, Edward Boateng.
On behalf of the government and people of Ghana, President Akufo-Addo once again expressed condolences to the former First Lady, the children and the bereaved family.
"I came here this morning, just to express to you personal condolences about what has happened and once again to reassure you that the government is going to be right with you in making sure that your husband is given a fitting sendoff and farewell," he assured.
Considering the position Mr. Rawlings occupied in the history of the nation as a former President, President Akuffo-Addo said that his departure has to be the responsibility of the Ghanaian people.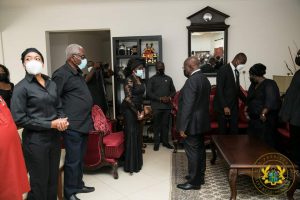 Earthly Experience
"I find it so difficult to believe; the man I knew as very dynamic, energetic human being, is today a corpse, but then it's an experience that will come to each one of us in our time, in the Almighty's own choosing; it is not our choosing," he said.
For him, the part that makes it so difficult to assimilate was the fact that the death was sudden, saying "it has come out of the blue; he's left us, but you have to know that this time you're definitely not alone; there are lots and lots of people in Ghana who are sharing in your grief with you."
"All of us will do our best to make sure that we are able to go through this passage as painlessly as possible," the President assured.
Much as he agreed the death would not be entirely painless, President Akufo-Addo said they will make it less painful.
"We are going to be writing volumes and volumes about his contribution to Ghana; whatever be the case, his passage of the leadership of our nation will not be forgotten," he noted, whilst insisting "we have to make sure that this man is given a befitting state burial."
That, he said, was because "his contribution to our country is enormous on many many many grounds and our nation must show true appreciation for his work and output here in Ghana."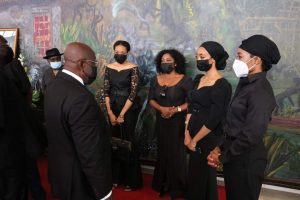 Zenator Speaks
The eldest daughter of the Rawlingses and Member of Parliament (MP) for Klottey Korley, Dr. Zanetor Rawlings, expressed gratitude for the show of support in these trying times and for the immense honour done their late father, husband and kinsman so far following government's decision to give him a befitting funeral and state burial.
"Indeed, this was unexpected; on the one hand, he managed to send his mother off first which was one of his concerns which he made a point of mentioning in his tribute to his late mother and as you rightly said, the lord giveth and the lord taketh and we cannot comprehend the reason why, but we do have to understand that this is the reality of our lives. It may not be today, it may not be tomorrow but the certainty is that death is something we all have to live with at some point; we have to face," she noted.
The family, she said, was yet to meet with the Office of the Chief of Staff and the State Protocol to plan the funeral to honour the memory of the former President.
Fond Memories
Earlier on Thursday, hours after the sudden death, President Akufo-Addo shared some of the fond memories about the former President when the family of the late former President led by Colonel Joshua Agbotsui, his uncle, and children called on him to break the news.
Family spokesman Johnny Gblagodzi said a great tragedy has befallen not only the family but the entire nation following Mr. Rawlings' death.
He recalled their visit to President Akufo-Addo four weeks ago to inform him about the passing of Madam Victoria Agbotsui, Rawlings' mother and that little did they know Mr. Rawlings himself would be gone too soon after his late mother's burial.
Falling Sick
"He felt sick and was hospitalised; lots of efforts were made. I know the President was in touch with his brother; little did we know that the former President will leave us," he narrated.
President Recounts
A sad-looking President Akufo-Addo said, "I was given this information this morning when I arrived in the office and I find it hard up till now to really incorporate and assimilate the information."
He expressed deep condolences to the bereaved family, especially Nana Konadu Agyeman-Rawlings and the children Mr. Rawlings left behind including Zanetor, Amina, Yaa Asantewaa and Kimathi Rawlings.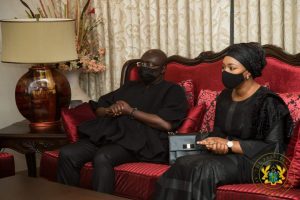 Tempestuous Relationship
Recalling some fond and nostalgic memories of his relationship with the deceased, President Akufo-Addo said, "He and I had a tempestuous relationship over many many years; but I believe that we came to see value in each other, that's how I put it by the end."
In spite of their frosty past which later metamorphosed into an enviable talk-of-the-town relation which earned Mr. Rawlings enemies in his own party the NDC, President Akufo-Addo admitted "he was a man of great vitality, dynamism and energy", adding "it's very difficult to conceive of his dead body lying in a morgue. But then, it's one of the things that all of us have to get used to because the Almighty has his own plans for each one of us and improbable as some things may be, nevertheless they happen."
Considering the good relation that existed between them before his sudden demise, he noted that "I'm extremely disturbed and saddened by his passage."
For him, Mr. Rawlings was not just any ordinary Ghanaian, saying, "He was the first President of our fourth republic; a man who held the supreme office in Ghana and therefore his passage has to be a matter for the Ghanaian nation."
State Precedence
"I know the feeling of family on such an occasion but I think that you will understand if I say that on the death of such a man, precedence has to be given to the state of Ghana."
He said, "If the state has to pull all the stops and make sure that he is given a most befitting and dignified exit, I'm determined to do that; I think his contribution to this country's history is there for all to see and at the end he had to leave."
He, however, assured that "the wishes of the family will not be ignored and they will not be ignored, and at the end of the day, the actual processes will be the processes of the Ghanaian nation to give him a befitting sendoff" since in his own words "a grateful nation should show its appreciation of him in a manner in which it organises his sendoff."
Presidential Order
President Akufo-Addo has since directed the Chief of Staff, Akosua Frema  Osei-Opare to liaise with the family and the widow to agree on how to proceed with the funeral of the late former President Rawlings.
Present were Colonel Joshua Agbotsui, Michael Soussoudis, Zanetor Rawlings, Yaa Asantewaa Rawlings, Amina Rawlings, Sylvia Ahorlu and Group Captain (rtd) Richard Fordjour.
By Charles Takyi-Boadu, Presidential Correspondent