In a major breakthrough for the police, a notorious armed robber who goes by the name 'Demon Town' and his accomplice, Kwame Sarpong, have been successfully arrested in the Ashanti Region.
The suspects gained notoriety for their brazen robberies and thieving sprees, targeting unsuspecting individuals.
The arrest came after a viral video surfaced, showing the suspects threatening to cause harm and torment the lives of anyone who dared to cross their path.
Following a thorough investigation, the police were able to trace the whereabouts of the suspects and apprehend them in their respective hideouts.
According to reports, the suspects can be seen in the viral video threatening to stab individuals who resisted their attempts to snatch their belongings.
Acting on a tip-off, the Kuntenase District Police Patrol team raided a house in Aputuogya, which was suspected to be a hiding place for the notorious robbers.
One of the suspects, Ibrahim Mohammed, 23, was handed over to the police by the residents, who had earlier conducted a raid on the house.
During the interrogation, Mohammed claimed to be from Adansi Fomena Kusa but currently residing in Madina, Accra.
He further revealed that he was invited to the Bosomtwe District by his distant family member, Kwame Sarpong, who is also identified in the viral video.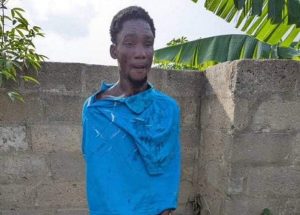 The police have apprehended Sarpong, who was on the run at the time of the arrest.
Authorities also revealed that they will be interrogating the owner of the house where the suspects were found.
In the meantime, Ibrahim Mohammed is expected to be arraigned before a court to face charges related to the robberies and threats depicted in the viral video.
The arrest of 'Demon Town' and his accomplice has been hailed as a significant victory in the fight against crime and restoring peace and security within the Ashanti Region.
By Vincent Kubi