Kelvin Odartei
Kelvin Odartei, the 18-year-old Basic Education Certificate Examination (BECE) student who assembled a car from scraps, has said neighbours thought he was going mad when he set out on his journey to build his car.
According to him, he didn't have money to buy all parts of the car, and so he went searching scraps everywhere, including refuse dumps.
As a result, people thought he was going mad because he was moving from place to place to pick parts from the floor whilst looking untidy.
"I didn't have everything, and I wanted to finish the car so sometimes I went to the refuse dump to look for scraps. People said I was getting mad because I walked around to pick stuff from the floor. I was picking bolts and nuts any where I found one on the floor. I walked around a lot and I look very dirty," he revealed on Adom TV.
The young innovator unveiled the car he assembled himself by driving it to the centre he sat for his papers.
He has since been trending on social media and traditional media circles after his car got the attention of many Ghanaians.
The car looked like it had been built from scratch with scrap materials. The body looked quite rusty, giving credence to the fact that it was built from scraps.
Kelvin has seen since received praises from the public for his hard work at his level. Many have called for support for him to build on his creativity.
He told UTV that he discovered his ability when he was younger and he started building small cars.
He added that he later decided to build a bigger car when he had help from seven friends who supported him.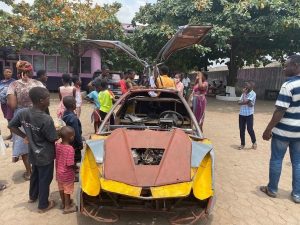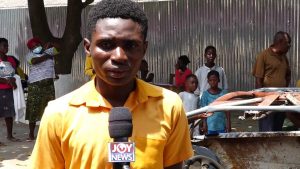 By Francis Addo