Some residents in the Suhum Municipality of the Eastern Region are up in arms against the Akyem-Abuakwa Traditional Council for ordering the grading of their lands in the area and forcibly taking it from them.
Close to two weeks now, scores of landowners who own a plot of lands in Suhum–44, Chocho Area, and its surrounding communities along the Accra to Kumasi Highway, have had their lands degraded by the order of the Okyenhene, Osagyefuo Amoatia Ofori Panin,
The ongoing land grabbing is been led by the Suhum Akwaserahene, also the President of the Zongo chiefs, Nana Koforidua, who says the Okyenhene gave the order to the Chief of Suhum to authorize him to embark on the land depredation and retrieve them for developmental projects.
According to him, the basis for embarking on the ongoing land depredation is to retrieve the stool lands which were sold by some illegal sellers to the buyers without the authorization of the Akyem- Abuakwa Traditional Council.
Nana Koforidua, also noted that they are only grading the unused lands and not pulling down houses, adding that in the coming days, they will continue with the exercise at Nankese, Adarkwa, Asikafo Amatem, all in the Municipality.
However, the order given by the Okyenhene which wasn't well communicated to the landowners has infuriated the affected landowners who are accusing the overlord of the Akyem Abuakwa State of taking over their lands and selling to developers without their consent.
In reaction to that, the ongoing exercise is creating tension in the affected communities as the landowners are threatening to stage a massive protest against the chiefs in the coming days.
On Friday morning, the affected landowners, who were carrying placards and wearing red bands staged protest at the premises of the Suhum Municipal Executive Officer, Margret Darko's resident to express their grievances.
They also served a notice to petition the Suhum District Police command to embark on a massive demonstration in the coming days.
In a saddening incident, the ongoing land grabbing has led to the death of one Popular man in Suhum, identified as C.K. a former Unit Committee member at Ahenbronumu Electoral area, who died after he was at work and was invited by the chiefs for a meeting over the land issues.
The deceased, who owned 21 plots of land, which he bought with a loan and is yet to be paid was told that they would take 11 plots out of the 21 which didn't sit well with him.
His Blood Pressure rose at the meeting and was rushed to the hospital where he was pronounced dead on arrival.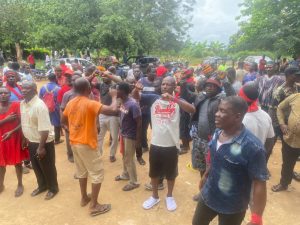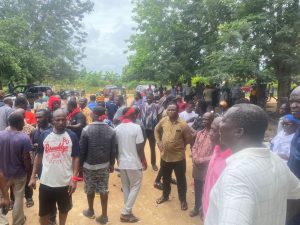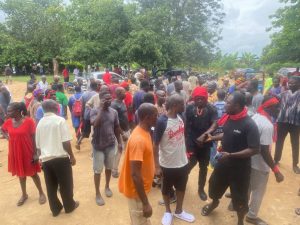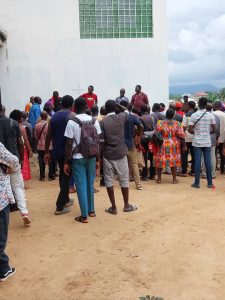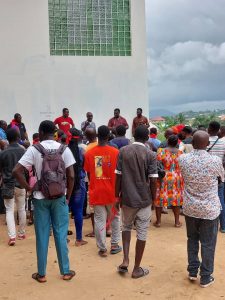 -BY Daniel Bampoe