The Treasure Kidz Newspaper (TKN) has been relaunched to promote and develop creative thinking and language skills among children.
Founder and Editor-in-Chief for Precious Kyei-Bonsu, who disclosed this, said the newspaper contained features like General Knowledge, Sports, Spelling, Current Affairs, Arts and Culture, History, and exclusive features among others, which would help improve child literacy in the country.
"Most of the time, parents do admonish their children who do not want to read but the truth of the matter is that they just don't have any interesting materials to read. This is why we have reintroduced the TKN newspaper after our COVID-19 break to improve on child literacy because most of the features in the news are interesting for the children," she posited.
She added that TKN's contents would further help children to engage in activities such as games, puzzles, riddles, fun facts and news, vocabulary, science and maths experiments aimed at enhancing children reading.
According to her.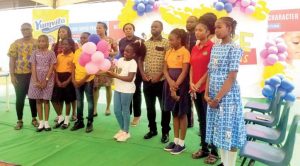 "The TKN will feature contents that inform the children of our real stories from the Ghanaian perspective by using the African Ghanaian themed cartoons to help our kids to appreciate our cultures and traditions," she added.
The TKN is a monthly newspaper which can be subscribed for GH¢50.
" Students from various schools will be given the opportunity to submit any story of their choice for publication. Best stories get some awards from the newspaper team," she said.
Ms. Precious urged parents to patronise TKN to help their wards partake in the reading, learning, and fun-packed programmes lined up by the newspaper to entertain the children.
BY Prince Fiifi Yorke