Government says exportation of cocoa beans will rake in $4.1 billion for the country in 2025.
This follows the increase in cocoa production which has been on an upward trajectory since 2019, hence the optimism that the industry would grow some more.
However, total exports from cocoa stood at $2.213 billion in 2022, a decline from the $2.83 billion recorded in 2021.
This was revealed at the 2023 National Chocolate Week, on the theme, 'Eat cocoa, Stay healthy and Grow Ghana' held in Accra.
Deputy Minister for Tourism, Arts, and Culture, Mark Okraku Mantey speaking at the event said "We have managed to establish a high degree association between tourism and cocoa-based products one of which is chocolate, and positioned it as a veritable component of Ghana tourism experience.
According to him, "The socio-economic benefits of the increased local consumption of chocolates are many and the Ministry of Tourism will continue to actively support the National Chocolate Week celebration".
He explained that "Over the last three years, with the active collaboration of COCOBOD, Cocoa Processing Company (CPC), and other partners, the Chocolate Day has been transformed into the National Chocolate Week to provide a longer period of engagement and increased awareness creation to further stimulate the consumption of chocolate and cocoa-based products.
He further pays glowing tribute to the late Jake Obetsebi-Lamptey, the Ministry of Tourism, Arts, and Culture, the Ghana Tourism Authority, COCOBOD, Cocoa Processing Company (CPC), and other stakeholders for this laudable initiative.
"I'Il desire that National Chocolate Week Celebrations develop into a very important tourism event. It must be continually nurtured and promoted to attract both national and international attention and participation," he added.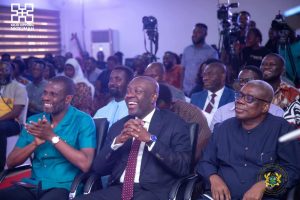 The Minister for Information, Kojo Oppong Nkrumah on his behalf said "On average, we're producing about 700,000 metric tonnes of cocoa per year since 2012. It is estimated that the contribution of cocoa to Ghana's Gross Domestic Product (GDP) will rise to about $4.1 billion by 2025."
He explained that "Cocoa is the third largest foreign earner for the country after gold and crude oil, and revenues from the industry have been on an upward trajectory since 2019".
The National Chocolate Day Celebration was instituted in 2005 to coincide with Valentine's Day which falls on February 14 every year to boost the domestic consumption of Ghana's chocolate and other cocoa-based products, promote domestic tourism, and give a healthy orientation to the celebration of Valentine's Day.
Chocolate Day celebration was extended into a full-week celebration dubbed Chocolate Week in 2022.
– BY Daniel Bampoe