The Bole Magistrate Court presided over by His Worship Andrew Prince Cudjoe, has transferred the case involving Sherina Mohammed, aka Hajia Filipina, 40, Latifah Bumaye, 25, a trader believed to be an associate of the ringleader, to the Tamale High Court for Prosecution to begin.
They have been charged with conspiracy to commit murder and murder.
The accused persons Sherina Mohammed aka Hajia Filipina and Latifah Bumaye, are standing trial at the Bole Magistrate court in connection with the allegedly participated in the gruesome lynching of a 90-year-old woman at Kafaba in the East Gonja Municipality of the Savannah region over claims of witchcraft.
The two will appear at the Tamale High court on October 13.
Mr. Salia Abdul-Quddus, a Chief State Attorney who led the prosecution told journalists that the five other accused persons have been discharged by the Bole Magistrate court and rearrested and will be charged with new charges.
The five other accused persons are Haruna Aness, 34; Issahaka Tanko, 35; Shaibu Murtala, 29; Sulemana Ali, 35; and Issahaka Sachebu, 32.
Mr. Abdul-Quddus revealed that with the evidence presented the Attorney General's office could not charge the accused persons with murder and for that matter discharged the five accused persons and rearrested.
" There are some people still at large and the five persons their case is not over yet so we don't want to trial them separately for the other persons so if we do that it means there are three cases pending and we don't want to do that."
Hajia Filipina was brought to Kafaba to allegedly exorcise people of witchcraft and after some purported rituals, she reportedly labelled the 90-year-old woman as a witch.
There were also 17 old women the so-called spiritualist claimed were witches.
DGN Online understands that when Akua Denteh was informed, she denied being a witch and appealed to Hajia Filipina and her gang to spare her, but her plea fell on deaf ears.
Reports say the woman was openly beaten to death by a mob led by Hajia Filipina.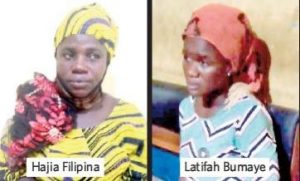 FROM Eric Kombat, Bole