President Nana Addo Dankwa Akufo-Addo has made an intervention in some eight girls of Chiana Senior High School who were dismissed by the Ghana Education Service (GES) for disrespecting him.
He made the intervention "after his attention was drawn to" the punishment meted out to the students who used unprintable words against him in a video which has since gone viral on social media.
A press release issued by the Spokesperson of the Minister of Education, Kwasi Kwarteng, on Friday, January 13 said Dr Yaw Osei Adutwum has directed the Ghana Education Service (GES) to consider an alternative disciplinary action instead of dismissal.
The eight students – all females were dismissed for making derogatory comments against President Nana Addo Dankwa Akufo-Addo in a viral vidro in November 2022.
Following their misconduct, the Management of the GES condemned the act and apologised to the President on behalf of the students, school and members of the public.
After extensive investigations into the conduct of the students, however, the Service directed the dismissal of all the eight students from the school.
The decision has sparked various discussions on social media while some describe the decision as harsh others are of the opinion that it is absolutely in order.
The students themselves have apologised in another video to the President and the authorities.
But opinions are divided since the communication about their punishment came out.
Find copy of the intervention press release below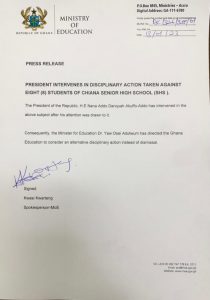 By Vincent Kubi