Like they say, when a child poo-poo on your laps, you do not cut it off but you clean it.
That is exactly what President Akufo-Addo has done in the case of the dismissed eight female students of the Chiana Senior High School in the Kassena-Nankana West District in the Upper East region with an intervention for a pardon.
The Ghana Education Service (GES) had decided to dismiss the young girls for making derogatory statements against the President of the land.
This was after the eight who were all second-year students were seen in a video that went viral using vulgar and unprintable words on President Akufo-Addo late last year.
It followed an investigation into the case.
Before the dismissal, the students had been on suspension.
In a letter to the parents, the GES, in the dismissal letter, addressed to parents of the students, described their conduct as very undesirable, and contrary to the acceptable standards of conduct generally required of any student in Ghana's educational system.
The students who had been on suspension over the video, have now had letters handed over to their guardians dismissing them for their misconduct.
This is what has compelled President Akufo-Addo to step in.
In a statement issued a while ago under the headline "PRESIDENT INTERVENES IN DISCIPLINARY ACTION TAKEN AGAINST EIGHT (8) STUDENTS OF CHIANA SENIOR HIGH SCHOOL (SHS)", Spokesman for the Ministry of Education, Kwaku Kwarteng "the President of the Republic, H.E Nana Addo Danquah Akuffo-Addo has intervened in the above subject after his attention was drawn to it."
Consequently, he said "the Minister for Education Dr. Yaw Osei Adutwum has directed the Ghana Education to consider an alternative disciplinary action instead of dismissal."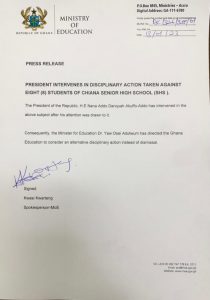 By Charles Takyi-Boadu, Presidential Correspondent