Vice-President Dr. Bawumia together with Fr. Andrew Campbell (2nd left), Board Chair of Princess Marie Loiuse Children's Hospital, Ambrose Dery (left) and Cynthia Morrison cut the cake.
Dr. Mahamudu Bawumia, the Vice-President, turned 56 yesterday, an occasion he marked unusually.
He spent a moment with patients at the Princess Marie Louis Children's Hospital in Accra and also had time with autism patients at the Autism Awareness Care Training Centre at Kokomlemle, Accra — engagements which they relished.
He was accompanied by Interior Minister, Ambrose Dery; Greater Accra Regional Minister, Ishmael Ashitey; Gender and Children's Affairs Minister, Cynthia Morrison; Deputy Minister for Energy, Dr. Amin Anta; Mayor of Accra, Nii Adjei Sowah; Chief Executive for National Petroleum Authority (NPA), Hassan Tampuli; National Chairman for the Premix Secretariat and NPP Parliamentary Candidate for Odododiodoo, Nii Lante Bannerman; and the Administrator of the District Assemblies Common Fund (DACF), Irene Naa Torshie.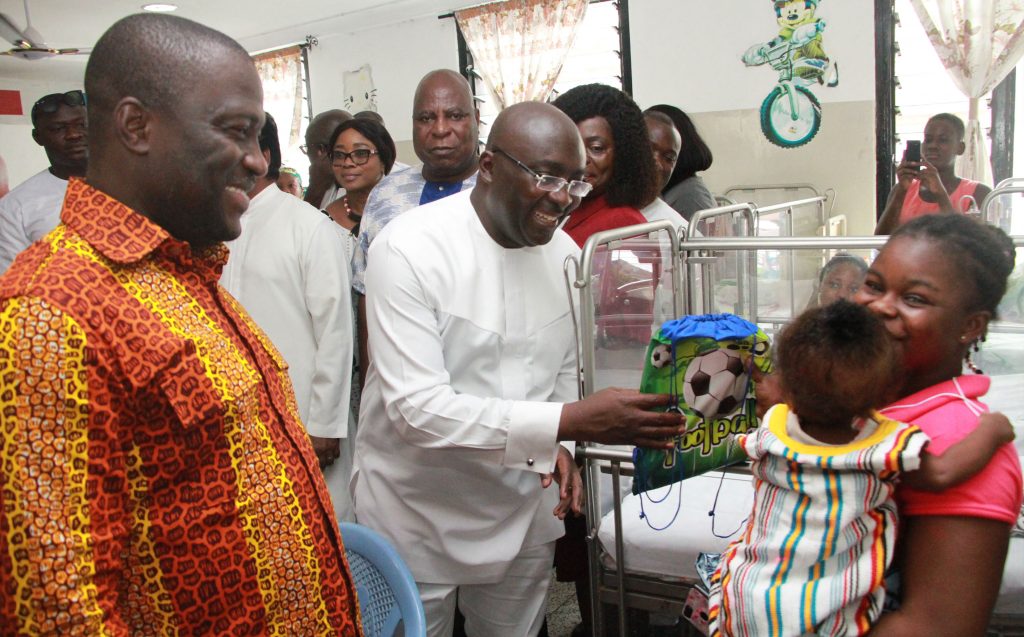 At Children's Hospital, the Vice-President's entourage was received by Reverend Father Andrew Campbell, Board Chairman of the hospital.
Dr. Bawumia said "life as we know it is really a gift from God and everyday you wake up and you are still breathing, you thank God for that day; and when God adds a year to your life, you thank God for that year."
He also said "I thought when God blesses you, you also have to try and bring those blessings to people who are less fortunate in one way or the other than yourself," adding "for those of us who have been able to get up, walk around, drink or eat some food today, we are very fortunate…there are people who are lying sick in the hospital…there are many children who are sick who will love to be able to just walk and eat who are not able to do so."
After cutting a birthday cake with the kids and management of the Children's Hospital, Dr. Bawumia also made cash donation of GH¢10, 000 and committed himself to see to the improvement of conditions at the place.
Medical Superintendent at the 94-year-old health facility, Dr. Maame Yaa Nyarko said the place needed a facelift befitting the status of a children's hospital.
At the autism centre, the Vice-President gave 25 bags of rice, five cartons of cooking oil and cash donation of GH¢20, 000.
He commended the management of the facility for doing a marvelous work.
By Charles Takyi-Boadu, Presidential Correspondent