Bro. Orleans Oduro preaching to the congregation. INSET: Section of the congregation
The immediate past Lay President of the Methodist Church Ghana, Brother William Orleans Oduro [Esq.], has advised the church to cultivate the habit of forgiveness in order to strengthen their daily relationship with God since forgiveness is a necessity rather than an option for Christians.
In a sermon titled "Forgiveness" deduced from the scriptures Matthew 18-21-22, he explained how Jesus was teaching Peter to set no limits on how much mercy he would show.
As the Bible states, "Forgive your brother for sins done against you as many times as your brother needs forgiveness." Do not show your brother forgiveness seven times only. Show your brother an infinite amount of mercy and forgiveness.
Bro. Orleans Oduro said, "No matter how difficult it may be, we are to forgive people and what they do to us. No matter how deeply we have been wronged, those offenses pale into the background compared to our debt of sin which Christ has already paid!"
Highlighting some consequences of one's unwillingness to forgive a neighbor for he said, "Unforgiveness affects your emotions, mental health causes sickness as one still suffers from the pains of the offense. God deprives us of our needs which affects our relation with him.  When one offends you and you fail to forgive that person immediately your path crosses your heart palpitates".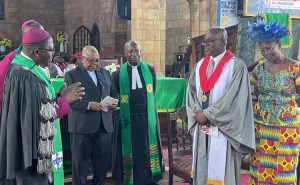 He further noted that forgiving one's neighbor of his sins does not necessarily mean you condole with the offense but do so because the scriptures say so.
Bro. Orleans Oduro made these assertions during his valedictory service yesterday held at the Wesley Cathedral in Accra.
He entreated the leadership of the church to tailor its preaching to reflect the mission of the Methodist church which is to equip the church for Ministry to the world through the demonstration of Christian faith and love and its vision of building a vibrant Spirit-filled and Spirit-led church for the holistic transformation of society.
"Teach the children in the church catechism, hymns and its doctrines so they can takeover leadership possible when the time comes. Let also increase the number of youth involve in our church operations so we can make good use of the innovative knowledge to transform the church" he appealed.
At the end of the valedictory service citation of honour and gift was presented to Bro. Orleans Oduro by various departments and associations of the church in recognition to his many years of service to the Methodist Church of Ghana.
BY Prince Fiifi Yorke