Prime Minister of Denmark, Mette Frederiksen has paid a courtesy call on President Nana Addo Dankwa Akufo-Addo Wednesday November 24, 2021.
The leaders discussed the strengthening of the Denmark and Ghana bilateral ties and welcomed the opportunity for further cooperation on a range of issues.
The leaders agreed on the importance of richer economies stepping up to help the developing world grow in a clean and sustainable way.
The Prime Minister expressed her hope that Denmark could work more with Ghana on various levels including water and sanitation.
Mette Frederiksen is on a two-day official visit to Ghana from Wednesday, November 24 to Thursday, November 25, 2021, the Danish Embassy in Accra has said.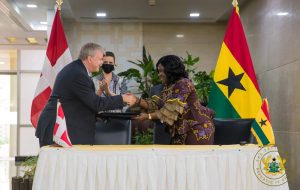 A statement issued by the Danish Embassy, said her visit would mark the 60-year anniversary of diplomatic relations between Denmark and Ghana.
It said the opposition leader from the Liberal Party of Denmark, Jakob Ellemann-Jensen, would join the delegation.
Ms Frederiksen after her meeting President Nana Addo Dankwa Akufo-Addo, was expected to meet Cecilia Abena Dapaah, Minister for Sanitation and Water Resources.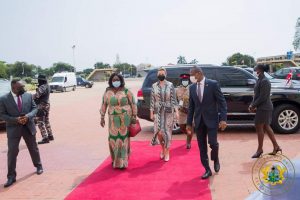 During the visit, Ms Frederiksen will visit the Frigate Esbern Snare, which has been deployed to the Gulf of Guinea until April 2022.
"The Danish contribution is improving maritime security and deterring piracy in the area, where 30-40 Danish-operated ships are present on a daily basis," it said.
The Prime Minister would also meet with Danish companies, Ghanaian CSOs and explore the extensive water cooperation between Denmark and Ghana, the statement added.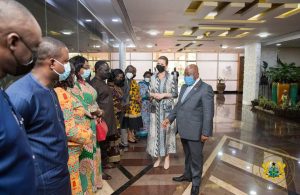 Ms Frederiksen is also visiting Tema the same day in connection with the city-cooperation between Tema and Aarhus in Denmark.
Ahead of her visit, Ms Frederiksen, said she looked forward to exploring Danish contributions to the fight against piracy in the Gulf of Guinea.
"Denmark is one of the primary seafaring nations in the world, and as such we have a special interest in protecting the global maritime trade.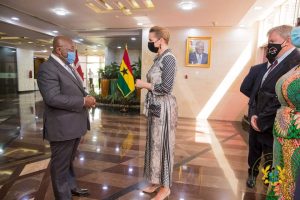 "…At the same time, the visit is important, marking the strong relationship between Ghana and Denmark. After decades of development aid, our partnership is now developing in new directions," she said.
She was appointed Prime Minister on June 27, 2019 after the Social Democrat Leader led her Party back to power in June, 2019 in general election.
Then 41, she became the country's youngest Prime Minister.
She took over the Party leadership in 2015, when her predecessor and Denmark first woman Prime Minister, Helle Thorning-Schmidt, lost power.
By Vincent Kubi