DSP Efia Tenge speaking to the media
Young ladies have been advised against sending their nude pictures to others regardless of the circumstance; as it has the potential of affecting them negatively.
DSP Efia Tenge, the Head of Public Affairs at the Volta Regional Police Command explained that although the nude pictures are usually sent to sexual partners in confidence, they, unfortunately, end up on the internet, thus among the public in a way that injures the dignity of these young ladies.
The situation which constitutes sexual exploitation and abuse have a way of having psychological and other harmful effects on young ladies who are still in a process of figuring out the world and themselves.
She gave the advice when she spoke to hundreds of young girls in the Keta Municipality of the Volta Region in a sensitization program.
The seminar which involved female students of Keta Senior High Technical School (KETASCO), Anlo State School (ANSECO), Norlivime Basic School, Dzelukope E.P School, and Keta Business College (KETABUSCO) was organised by Touching the Lives of Girls Foundation International (TLGF), an NGO in partnership with Ghana Police Service.
It was aimed at empowering young ladies to maintain good menstrual and personal hygiene as well as good sexual reproductive health. It also focused on ways to prevent sexual abuse and its negative effects.
DSP Tenge urged young ladies not to hesitate to report persons, including teachers and close relations who exploit and abuse them in any way for swift redress. She lamented how many unreported minor cases of abuse lead to rape, incest, defilement, and other forms of sexual and physical abuse. These further lead to infections, injuries, unplanned pregnancies, infertility, stigma, suicidal thoughts, and even deaths.
She stressed that young ladies can trust the Police, particularly the Domestic Violence and Victims Support Unit (DOVSU) to deal with perpetrators and support them (victims). DSP Tenge also opened her doors to the many young ladies who were inspired by her exploits in the Police service.
Dr. John Kwamina Bosomtwe, Gynaecologist/Obstetrician at the St. Dominic District Hospital, Akwatia – Eastern Region educated the students on menstrual hygiene. He cautioned against the use of unhygienic items like nose masks, papers, plantain leaves among others to clean themselves during that time of the month. "These lead to serious infections including pelvic inflammatory diseases," he noted.
He also emphasized the need to abstain from sex when below 18 or use contraceptives to prevent infections, unplanned pregnancies, and other negative effects on the lives of young ladies.
Recent data from the Ghana Health Service (GHS) indicates that half a million, thus about 555,575 teenagers aged between 10 to 19 years have gotten pregnant over the last five years; between 2016 and 2020. On average, about 112,800 teenagers get pregnant annually.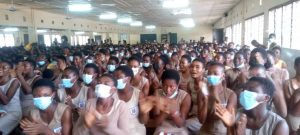 A cross Section of the female students at the seminar
Out of this number about 30,333 of these teenage pregnancies were recorded in the Volta region. Representing an average of about 6000 teenage pregnancies annually. The issue of poor menstrual hygiene in peri-urban and rural communities is also not encouraging.
The founder of TLGF, Nana Ama Adutwumwaa observed that These statistics coupled with the incidence of sexual abuse and effects of both phenomena are what has necessitated the need to empower young girls in Keta.
She said the potentials of the girl child are so enormous that all and sundry is needed to protect them and guide them against sexual abuse, poor menstrual hygiene, and other unhygienic lifestyles.
Adzedu Deladem Meya, Girls' Assistant Health Prefect of KETASCO commended the Touching the Lives of Girls Foundation International, DSP Efia Tengey, and Dr. Bosomtwe for the seminar. She said they have been enlightened and empowered to maintain good menstrual and personal hygiene and reproductive and sexual health.
Other beneficiaries also acknowledged that their susceptibility to sexual abuse has been gravely reduced by education and guidelines. Furthermore, the era of lost confidence and focus as a result of poor menstrual hygiene and sexual abuse will come to an end.
From Fred Duodu, Keta (k.duodu@Yahoo.com)