Ghanaians seeking international higher education to become competitive in modern times have been admonished to consider studying in India because of the world-class programmes available.
To further simplify the processes and bring universities in India to the doorsteps of Ghanaians, Afairs Exhibitions & Media from India have collaborated with officials in Ghana to hold the second Study in India Expo (www.studyinindiaexpo.com) on 31 March – 1 April 2023 at the Holiday Inn Hotel in Accra from 10 am – 4 pm.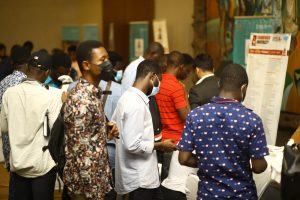 The expo is supported by the High Commission of India Accra-Ghana and is expected to showcase some of India's leading universities and colleges offering more than 200 courses.
Courses include a diverse range from science, technology, engineering and mathematics (STEM), commerce, nursing, business management, humanities, arts, optometry and a wide range of new-age courses such as robotics, artificial intelligence (AI), Internet of Things (IoT), data science, liberal arts.
Many of these institutions are accredited by NAAC A+ grade and NIRF & QS rated.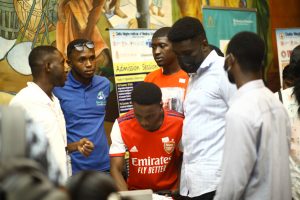 The expo offers students the unique opportunity of interacting face to face with heads of international admission to know more about courses which are in demand, the admission process, eligibility criteria, cost, scholarships, placements and other requirements.
These can be assessed in a few hours, and students can get lucrative merit-based scholarships at the expo.
India has been the cradle of education for decades. With the Indian education system having a strong foothold in international markets, the country attracts students from over 150 countries to pursue a wide choice of first degree, masters & PhD. Programmes.
The unique proposition of Indian higher education is an excellent combination of world-recognized degrees, high academic rigour, the best faculties, and international culture campus life at affordable fees while providing international students with a safe and friendly ambience.
Mr Sanjeev Bolia, the chief organizer of the 'Study in India Expo' explained that the event would "create an unparalleled opportunity for Ghanaian students to explore the advantages of studying in India and secure their future".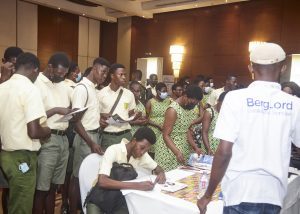 "Rich in natural resources and on a surge of industrialization, Ghana, as a nation, possesses opportunities ready to be explored by the country's youth. A world-class higher education in India promises to arm the youth with needed knowledge and expertise in scientific research, innovation, technology, data sciences and other expert areas to contribute to their country's economic growth. We at Afairs ensure that we serve as the enabler to seamlessly connect Ghanaian students to the right institutions and right courses in India and provide them information on scholarships offered by the Indian universities and the government," he added.
Some of the participating institutions are Sharda University (Delhi NCR), Lovely Professional University (Punjab), KIIT University (Bhubaneshwar), MIT World Peace University (Pune), Pandit Deendayal Energy University (Gujarat), Aditya Educational Institutes (Andhra Pradesh), Gandhinagar University (Gujarat), AISECT University (Bhopal), Acharya Institutes (Bangalore) Jagran Lakecity University(Bhopal).
Students and parents can register to attend the expo at www.studyinindiaexpo.com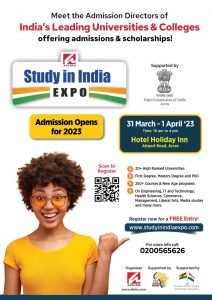 By Kweku Temeng