With 500 deliveries per day within 80 kilometres service radius and 30 minutes or less average fulfillment time, Zipline is providing life saving medical products (blood and other blood supplies) faster than any other mode of transport to hospitals in Rwanda.
Israel Bimpe, Zipline National Implementation Officer, says Zipline is leveraging on the drone technology to provide seamless delivery service through a simple process of hospitals sending text orders to the drone supply centre in Muhanga district for the medical products they need.
He reveals, "When we receive request, the items are packaged here and prepared for flight, maintaining cold-chain and product integrity when it reaches its destination the package is delivered gently by parachute into a designated area for the medical personnel."
This centre serves 21 hospitals across western Rwanda, providing instant access to lifesaving blood products for eight million Rwandans since October 2016.
Dr. Mazarati Jean-Baptiste, the head of the Biomedical Service Department of Rwanda, the authority under which Ziplines operations falls, speaks on the success of the Zipline drone distribution centre.
Excerpts from the interview follow:
What informed the decision to come up with this project?
It is the decision of the government of Rwanda to leverage technology to deliver services –whether health related or any other services. Technology is at the heart, the core of the government endeavour to make sure that we deliver services in a smarter way.
So when His Excellency, President Paul Kagame, met a friend of his who wanted to use drones in offering services to people, he expressed interest and directed the drone company, Zipline, to the Ministry of Health. That was when the conversation became technical and questions like how is it feasible, when will it be feasible, will it become a reality were all answered.
How long did it take for the project to officially take off?
It took 15 months to see the project really filter and become a reality. We met at the Ministry of Health, and from there, the minister of technology took over.  That was in 2015. But it was inaugurated in 15 October 2016.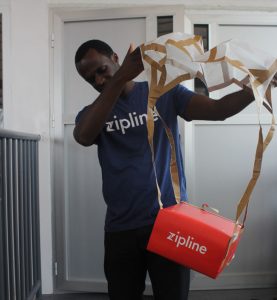 How does Rwanda ensure constant supply of blood?
Our system is based on volunteers –to give blood. So far, we have not had any stuck out of blood. We collect around 60,000 blood units a year and it keeps increasing. We haven't yet reached the standard which WHO set, which says that the 54 per cent of the population have to be able to give blood. But we are closing the gap towards that threshold. Another impact is that we used to lose six per cent of blood for our production yearly while using the truck because hospitals have to overstick the blood onsite. But now, since it is demand, through the use of Zipline service, we have reduced waste from about zero per cent.
How does the blood get to Zipline?
Blood is taken from Kigali to Zipline. As you have visited the site, you will see it takes 45 minutes to one hour to get to the drone site. So whenever they have an order, they tell Kigali. Kigali makes the order ready and Zipline comes to pick it up with a refrigerated vehicle. From there, the blood gets distributed.
What went into the establishment of Zipline in Rwanda?
Rwanda is not investing in drone centres. This is Zipline ownership and we are buying into a service. But the whole setting up of the drone centre; it is already Zipline business. We, as a partners, are giving incentivity to Zipline to make sure that it can set up centres for assembling drones, centre for robotics – so that our youth, African youths can have experience in the use of that technology.
What are the incentives being given to Zipline?
The first incentive is the platform we have given them. We have given them a chance to shine. Nowhere in the world has drones been used to transport any medical product.
Secondly, we gave them land as our contribution. Thirdly, we facilitate all the technology that were needed like fibre optic cables.
Fourthly, we don't look at the price to buy into Zipline service. Not only because Rwanda is rich, but because Rwanda leadership does not look at the price when it comes to saving lives. So there is no price tag to a Rwandan life.
One of the drones at the Zipline blood delivery centre
How much has it saved you using drones in terms of expenses?
Perhaps in a year, we can answer that question because we are conducting a study to examine the magnitude of the impact of using the drone technology for medical services.
But what we know and I can say is that we no longer have a case where mothers are transferred from Mobororo, Mugayi, just because of blood. So whenever you need, wherever you need, you get on demand.
Can you disclose the percentage of the health budget that goes to Zipline?
Very little; it is very small. It is very complicated to say but it is very few. You can't even compare it to Rwanda Biomedical Service share in the budget.
What was the situation before you started using the drones and how has the situation changed?
We used to use trucks to deliver bloods to the hospitals or hospitals used trucks to get blood to take into regional health centres across the country and distribute them to hospitals.
It took about five hours drive both ways from a place like Muhoro District Hospital to get blood from the centre which is based in Kigali –which is the farthest.
But now from Muhanga drone point, it takes only 20 minutes, so you can be operating in the theatre and just make your order and you will get the blood supply timely. You can see the difference in terms of time, in terms of saving the lives and in terms of any kind of management; it is smarter to use drone than using truck. And we are looking forward to graduate from using trucks in transporting blood and other medical products.
What has been the impact of this technology on maternal and child health in hospitals?
Perhaps we don't break down the data in terms of how much blood has gone to maternal health or in reducing maternal death or how much quantity of blood has gone to road accident people.
However, in the future, we are setting up a system called haemovigilance – which will look at what the blood we give, do, in a clinical setting?
That is when we will be able to quantify the number of blood that is used to mothers giving birth, for accident cases, or any other medical situation. Currently, we don't really have a data to say that but we know how much blood we produce. We know how much blood we give to hospitals and we know how blood is used –but for which case –we don't know.
Haemovigilance is like pharmacovigilance. It will be a system whereby every single unit of blood given to a patient will be given will be recorded from the day it is leaving the national health transfusion centre to the day it is given to the patient. And then we will know the condition of that patient and for which medical case the blood was used.
Do you plan to increase drone usage to other medical supplies like contraceptives?
Yes. Now, with drone services, we are in phase 1 and it is ending soon. The first phase constitutes the service of 21 hospitals. They are now at 18th district hospitals and they are setting up another drone port in eastern part of Rwanda so that they would be able to, at least, cover more than 80 percent of the territory of Rwanda.
So we hope that Zipline will cover more than 80 percent of Rwandan territory in terms of servicing blood and we are looking into expanding their portfolio and making them transport not only blood but also any other medical product.
And as we speak now, yesterday, they were discussing which medical product they are going to transport and the quantities they are going to be able to transport. So, we hope that as they sign the next contract, they will be able to expand into transporting other medical products as well.
Which other medical product are you looking at?
We are looking at emergency medicine. We are looking at vaccines such as anti-rabbies vaccines. We are looking at any other drugs. It is first an attempt, so we will continue to be phasing it. After the first phase, we will evaluate it. Then we do the second phase but it will always be via Zipline.
Have you had visits from any other African countries to understand this process? Have other African countries been able to adopt it?
Not only neighbouring countries, but also other regional African countries are interested. We have seen Namibia, Tanzania, Cameroon, Ghana delegation. If there is anyone who came from Uganda, it was just private –not an official delegation. Everyone wants to know if it working? How much it is? If it is costly? They believe that f it can work in Rwanda, it can work anywhere.
By Jamila Akweley Okertchiri,