Rebecca Akufo-Addo in a handshake with Prof. Catherine Hankins as Professor Kwasi Torpey (middle) looks on.
The First Lady, Rebecca Akufo-Addo, is confident that Ghana will be able to reach out to 90 per cent of children living with HIV with critical services next year.
She said this would be made possible with the successful implementation of the National Acceleration Plan for Paediatric HIV Services, which is a five-year (2015-2020) strategic plan aimed at putting 90 per cent of estimated number of children and adolescents (0-19) living with HIV in Ghana on treatment by 2020.
Mrs. Akufo-Addo disclosed this while speaking at the opening of the 13th International Conference on HIV Treatment, Pathogenesis and Prevention Research in Resource-Limited Settings (INTEREST) Conference in Accra.
Delivering the keynote address, the First Lady indicated that Ghana, under the implementation activities, has held outreaches to advocate accelerated elimination of mother-to-child transmission and treatment of children living with HIV.
She said the implementation of the health outreaches in Ghana was successful enough to be used as a case study by ABOTT to get other countries to conduct similar outreaches.
She, however, stated that whilst there had been remarkable progress against HIV and HIV related deaths, it seems children have been left behind, as figures in 2017 estimated that 180,000 new infections among children occurred globally.
She thus charged the Ghana Health Service, saying "every child born to an HIV positive mother should also be screened for HIV within the first six weeks of life and followed up according to national protocol. Any child who tests positive at any time during the follow-up should be initiated on antiretroviral therapy as soon as possible".
"The Ghana Health Service should also have a reporting system that identifies every single infant who is infected with HIV," she added.
Professor Kwasi Torpey, University of Ghana College of Health Sciences, chair of the Local Organizing Committee (LOC), said participants after the three-day conference would improve their knowledge on the most recent findings in HIV treatment, pathogenesis and prevention research.
In her remarks, Prof. Catherine Hankins of the Amsterdam Institute for Global Health and Development said "it's important that the INTEREST conference comes to Ghana for the first time to enable scientists, clinicians, programme managers, students and others to appreciate and get acquainted with the effort that Ghana has made in combating HIV."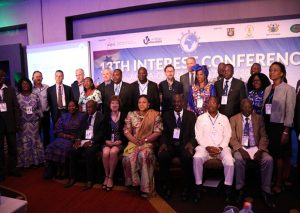 Mrs. Akufo-Addo with members of the LOC in a group photo after the opening session.
By Jamila Akweley Okertchiri