Opoku-Ahweeneh Danquah – GNPC Boss
General Manager, Strategy & Investment at the Ghana National Petroleum Corporation (GNPC), Dr. Kwame Amoah Baah-Nuakoh, has said that the Corporation is poised to defining a realistic, workable paths to a net zero future.
According to Dr Baah-Nuakoh, this decision by the GNPC is informed by the global call for a collaborative action to prioritize good governance and a sustainable energy future for all.
He was speaking ahead of the upcoming World Petroleum Congress (WPC 2023) set for Calgary, Canada.
The WPC is a platform that offers energy professionals and companies across the globe the opportunity to exchange ideas and opinions on sustainable exploration, production towards the global goal to reach net zero emissions.
The GNPC, alongside the Petroleum Commission, will at this year's congress, host a Pavilion to, among other things, share Ghana's experience in leveraging the advancements in research and technology to establish a healthy balance in exploring its fossil energy resources while pursuing the opportunities presented by the global energy transition.
But more than a simple projection of Ghana's petroleum industry as a pristine sector for business, the Corporation will take advantage of the convergence of global oil and gas stakeholders to specifically highlight the commercial viability of the Voltaian Basin Project and its potential to create unique business opportunity, generate significant revenues for economic development through the establishment of an added energy hub that could provide much-needed jobs.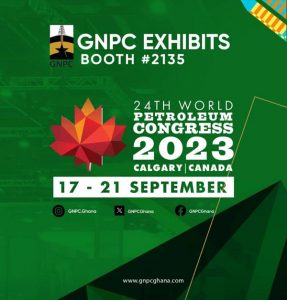 Dr. Kwame Amoah Baah-Nuakoh said the WPC presents Ghana with an opportunity to market the availability of credible opportunities for international companies to explore partnership avenues for a sustainable exploitation of Ghana's untapped Offshore and Onshore hydrocarbon deposits.
"GNPC is at an advanced stage in its prospecting activities in the Voltaian Basin which holds huge potential of finding oil and gas deposits in commercial quantities. We are constantly seeking new strategies and safer, more responsible ways to develop our potential fields and we'll use the platform to invite investors to take advantage of the enormous prospects offered by Ghana's petroleum sector and partner us to explore the full potential of Ghana's open blocks," he said.
Earlier this year, GNPC Chief Executive Officer, Opoku-Ahweeneh Danquah, stated that his outfit was continuously evaluating opportunities to leverage its technical competence and financial strength in unlocking much needed hydrocarbon potential of our sedimentary basins with several blocks across its upstream space available for funding and partnerships.
With other operations such as that in the shallow water GH-WB-01 block under reconnaissance license, GNPC will seek to attract interest in not just funding but in knowledge exchange across strategies and technology necessary for successful explorations in Ghana.
"It is worth noting that Ghana still has a relatively fledgling oil and gas industry and is still learning. We will take advantage of the wealth of resources offered by the WPC to meet training institutions and network with key stakeholders as part of our growth strategy," Dr. Baah-Nuakoh concluded.