Andrew Agyapa Mercer
ENERGY MINISTER, Dr. Mathew Opoku Prempeh, has hinted that Government will soon outdoor a National Energy Transition Plan to generate revenue, create jobs and enhance energy security.
Speaking on behalf of the minister at the Africa Energy Conference in Accra Tuesday, Deputy Minister of Energy Andrew Agyapa Mercer, said the transition plan will guide her journey towards attaining a net zero status at a pace realistic to her peculiar circumstance.
He said "Ghana's plan is informed by both available and prospective energy sources, accessible financing and other factors. I am glad to hint to you that by the end of this month, the plan will be out-doored. The world must sympatise and come to terms with the African continent's dire need for basic development with the resources available whilst honoring collective energy commitment."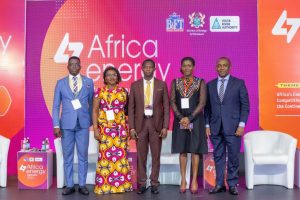 He also said that in line with Ghana's ambition of becoming a hub for refined petroleum products in the West African sub-region by the year 2030, Government has launched the Petroleum Hub.
According to the minister, the hub will feature 3 refineries, each having a minimum production capacity of 300,000 barrels per day, 5 petrochemical plants, as well as industrial and storage infrastructure, among others.
"20,000 acres of land have been secured in the Jomoro Municipality in the Western Region for this project. Ghana is open to investment in the hub. Factors like the central location of Ghana and access to vibrant shipping route, which provides easy access to regional market, makes the hub project very viable," he added
He, however, urged African states to plan around energy sources that would be available in 20 to 30 years from now and start investing in its development as they embrace the present opportunity of energy sources readily available.
Dr. Godwin Acquaye, CEO of the Business and Financial Times (BnFT), said with immense resources available to the continent, Africa should accelerate investments in technology, innovations, policies and regulations to speed up a renewable revolution.
He said this could be achieved if Africa utilised its huge renewable energy potential, combined with conventional energy, to light up and power Africa.
He said "Our collective aspiration must be high and we should drive for universal access to energy in Africa by 2030 as the World Bank projects. For this to happen, countries will need to scale up on-going efforts in the energy sector, institute a stronger political will and we as partners must work together, coordinate our efforts to drive critical policy, regulatory reforms of the energy sector to improve incentives for accelerated investments."
BY Ebenezer K. Amponsah