The Bawumia Fan Club, a group supporting the Vice President of Ghana, Dr. Mahamudu Bawumia, in his bid to become the flagbearer of the governing New Patriotic Party (NPP), has raised GH₵50,000 nomination fee for the vice president.
The money was raised through donations from members across the various constituencies in the country.
Dr. Bawumia has not officially declared his candidacy for the presidential primaries of the party, set to take place in November 4, 2023.
But the Bawumia Fan Club has expressed their support for the vice president, highlighting his leadership qualities, humility, and respect for ordinary Ghanaians.
The group's National Chairman, Eric Kwabena Twumasi Ankrah, praised Dr. Bawumia's ability to digitalize every sector of the country and stated that none of the other candidates can compete with or defeat him.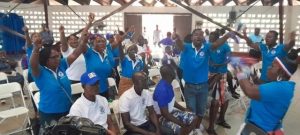 The group is willing to provide any support to Dr. Bawumia to see him triumph, including the donation of the raised money.
"Bawumia helped the NPP very much with his knowledge. He opened our eyes in almost everything including elections, so he's the right person to lead the party and that matter Ghana after the 2024 elections," according to Twumasi Ankrah.
He added "The money is ready, we're going to wait for them at the party's office in Accra, immediately they return from the Kumawu by-election, we will hand over the money to him, any amount we are ready to pay for him."
The Ashanti Regional Chairman of the group, Millicent Elizabeth Boateng, also affirmed their commitment to ensuring Dr. Bawumia's victory, stating that he is the best person to lead the party and the country.
"The flagbearership position is already in the hands of Dr. Bawumia, his time has reached, hence he's the best person to lead the party and also the country," she said.
By Vincent Kubi