Dr. Nkansah-Dwamena cutting the tape to open the facility
The Korle Bu Teaching Hospital (KBTH) has commissioned a new dialysis center, to cater for the growing number of patients who need treatment for Kidney diseases.
The centre, built with the internally generated funds of the teaching hospital and supported by companies and philanthropists,
has about 15 dialysis machines.
The facility is expected to increase the hospital's capacity and enable it to deliver services for about 250 Kidney patients in a week.
Board Chairman of KBTH, Dr. David Nkansah-Dwamena, who inaugurated the facility, said the teaching hospital was engaging the National Health Insurance Scheme (NHIS) on the possibility of absorbing the cost of dialysis for chronic kidney diseases to ease the financial burden on patients.
He said the hospital was also working to improve kidney transplant services to position it as the preferred destination for such services in West Africa.
Dr. Nkansah-Dwamena expressed appreciation to First Sky Group for its financial support to patients of the Renal Unit and appealed to other corporate and benevolent organizations for further support.
The Chief Executive Officer (CEO) of KBTH, Dr. Opoku Ware Ampomah, said the hospital was working to put in place incentive packages to help reduce the attrition rate of nurses due to poor conditions of service.
The Head of the Renal Unit of the KBTH, Dr. Vincent Boima, expressed concerns about the rise in chronic kidney diseases in the country, adding that people between ages 20 and 50 years are the most affected.
He appealed to the government to come to the aid of kidney patients by taking half of the cost of treatment to lessen the financial burden on them.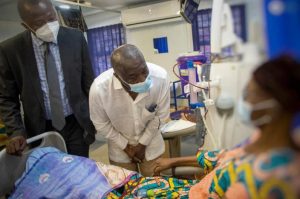 Officials of the facility interacting with a patient
First Sky Support
The Public Relations Manager of First Sky Group, Nii Lankai Lawson, said the outfit's support to the Kidney Unit and kidney patients was merely in fulfillment of the organization's corporate social responsibility to society.
He said the company that has been a major sponsor of the unit, has invested GH¢20 million since 2015 in the unit to support the delivery of kidney-related health care to the public.
That support included First Sky Group bearing the cost of one of the three to four sessions of treatment for kidney patients at the dialysis unit.
By Jamila Akweley Okertchiri