International Leadership Trainer, Tammy Sherger
An international leadership trainer, Tammy Sherger has indicated that the low success rate in the life of many is attributed to the lack of soft skills and mindset development.
According to her having an education and technical or vocational skills is good, however, the level of impact and progress that one can make with any or all of them is largely dependent on a person's way of thinking, how to manage people and how to handle situations and challenges. "That is the difference between a successful person and an unsuccessful person," she asserted.
Tammy Sherger, a Canadian and CEO of 'I am Worth It Project (IAWIP)' made the remarks in Ho, the Volta Regional Capital during the 13th Annual National Service Personnel Association (NASPA) Mini Congress held at Skyplus Hotel.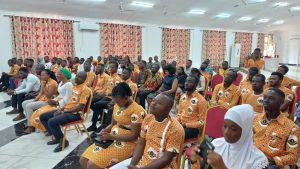 The Congress attracted about 80 young leaders including National and Regional Executives of the NASPA who underwent soft skills training facilitated by the renowned Canadian Essential "soft skills" training and mindset development firm.
They were taken through topics such as Mindset Development, Engaged Leadership, Time Management, Change Maker, Action taking, Solution Thinking, and Teamwork; all of which are essential in enhancing their employability as they transition into the world of work and leadership.
According to Tammy Sherger research had shown that 85 percent of a person's success comes from their expertise in essential soft skills training and mindset development, hence, the need to address the success gap that exists due to a systemic failure to recognize the crucial need for personal development, mindset and essential soft skill training for effective and sustainable employment.
She noted that IAWIP was currently working to partner with some government institutions, corporate bodies, and educational institutions in Ghana to launch the Ghana Essential Skills Initiative (GESI) where the 'Success Degree' programme will be established as an essential piece of the puzzle to address youth unemployment.
This will be done by inculcating cognitive and socio-behavioral skills such as critical thinking, emotional intelligence, teamwork, effective communication, and people management into Ghanaian youth to help them adapt and thrive in the twenty-first-century world of work.
The Life and Business Strategist further encouraged the youth to have confidence in themselves, and not to leave their success to chance, adding "you have the power to change things around you. Just be focused, and have a vision for your progress."
The Executive Director of the National Service Scheme, Osei Assbiey Antwi advised the participants to take the training provided to them seriously since it would help them succeed in their day-to-day activities. He recounted how the IAWIP helped the Scheme through similar training offered to its management and directors in implementing the new vision of deployment for employment.
The training, he noted, has helped position the NSS management to enhance the focus of the scheme for sustainability and growth.
Mr. Emmanuel Wit Duncan Agbogah, the President of NASPA in his address, indicated that, the training has exposed them to the challenges with "leadership & employee communication, how to take back control of their time, understand how to bring people on board with their ideas, recognize the power of focus on achievement of goals, how to reset false beliefs that prevent many people and organizations from rising to their greatest potential."
He assured all National Service Personnel across the country that they, as leaders, will do all that they can to make sure that they will all "have access to this life-changing training program."
He also expressed gratitude to the I Am Worth It Project team, especially the trainer, for coming from Canada just to train them.
From Fred Duodu, Ho (k.duodu@yahoo.com