The McDan Group of Companies' chairman Daniel McKorley, has marked his 50th birthday in style by extending a helping hand to 1500 widows in some parts of Accra in a special ceremony at the La Town Park on Monday.
The occasion forms part of the two-week activities to commemorate his 50th birthday anniversary which he celebrated last week.
All the widows left the event ground with gift packs containing pieces of cloth, scarf, sardines and soaps and crates of eggs.
Addressing the gathering of widows from different communities in Accra, Tema and Ashaiman, Dr McKorley said giving to the widows was one of his outfit's Corporate Social Responsibilities (CSR) which is paramount to him.
To him, the gesture touches lives and make living better for people who are mostly considered neglected and in need.
"This is not about McDan, but it is about the benefits the recipients will derive from the support. I have been doing this for a while, and not only for the widows."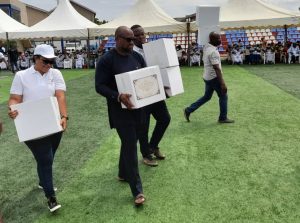 He added "I believe sincerely that God is blessing me and it is my responsibility to give to others and be a blessing to them.
I feel emotional about the whole exercise because, there are a lot of people who need support and who need to be helped and I believe that, extending a hand to them, in my own small way will do much to touch their lives."
He said the 50 years anniversary celebration is not just about partying, but that he decided to use the two-week a to give to society through charity work.
He mentioned "I will be launching my book on Friday. I will go to Ada and continue the widows project there. I will go to Yendi to commission a school which I just built for the community."
He also mentioned that he will go to Upper East and commission two Sheabutter factories.
McDan also indicated that as part of the birthday celebration, he will adopt 50 children and empower them for a better future.
The widows expressed gratitude to McDan for the gesture and prayed for God's blessings and protection for him.