Psalm Adjeteyfio
Contrary to claims by media socialte, MzGee that she only sent audio of Actor, Psalm Adjeteyfio to someone at the Office of the Vice President, it has emerged that MzGee also shared the controversial audio with her husband.
According Psalm Adjeteyfio also known on stage TT, MzGee contradicted herself by dragging the office of the Vice President, Dr Mahamudu Bawumia into their brouhaha over who leaked his viral audio recording.
In an interview on Empire Fm, he indicated that the ex-TV3 presenter sent his audio to more than one person.
Mzgee on Tuesday denied allegations that she leaked the audio that captured the popular actor begging her for leftover food.
According to her, she only sent the audio to a confidant in the office of the Vice President and she didn't send anyone else.
"I only sent it to an individual in the Office of the Vice President. He also says he's not sent it to anybody, so who leaked the audio? Maybe we should start asking questions. Ask those who first published it how they got the audio," she said on Tuesday.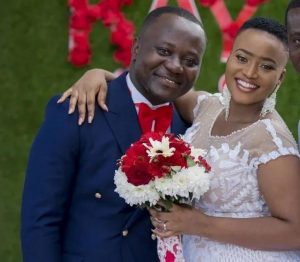 Mzgee and husband
But Adjeteyfio in his interview with Empire Fm alleged that MzGee told him that she also sent the audio to her husband, Raymond Acquah of Multimedia Group, a claim which MzGee has omitted in her narration on Tuesday.
"Just last night (Monday, January 10), she called me and said when I sent the message she was in Nigeria and so she sent the message to somebody to see if the person could be of assistance; specifically, she said she sent it to her husband…," he indicated.
He also said he didn't believe Mzgee leaked his conversation with her.
"MzGee, I don't think would consciously do a thing like that, because this is not the first time she has even appeared on my behalf, and she has personally helped me on several occasions," he said.
The actor has been trending since Tuesday morning after he was captured in the viral audio on social media begging MzGee for help.
The audio left many to wonder how a man who had received such a colossal amount of GH¢50,000 from Vice President Dr Mahamudu Bawumia and an extra ¢1,500 as monthly upkeep from the Greater Accra Regional Minister, Henry Quartey will come back begging for help.
Though Ghanaians have applauded MzGee for her support for the Taxi Driver over the years, some wondered why she sent the audio to Vice President's office.
To them, it was not necessary to have sent the message to the person at the Veep's office because Psalm Adeteyfio had no issue with the second gentleman's office.
He was only worried that the monthly money, promised him by the Greater Accra Regional Minister, was not forthcoming.
Meanwhile, Mr Adjeteyfio has blown the Veep's GH¢50,000 cash donation for his rent and upkeep on land and taxi.
He told Empire Fm that he used ¢30,000 to buy two plots of land and also purchased a used taxi for his son for GH¢20,000.
That he explained that was one of the reasons he had contacted MzGee for assistance aside from Henry Quartey's inability to honour all his promises to him.