President Akufo-Addo on Wednesday issued out fresh instruments and letters of credence to three new Ambassadors appointed.
They included the Chief of Protocol at the Ministry of Foreign Affairs, Samuel Yaw Kumah as an Ambassador In Situ, a diplomatic official of the highest rank sent by one country as its long-term representative to another in recognition of their selfless service to nation building.
The rest are Dr Joseph Nii Sai Kwofie-Agoe, as Ghana's new High Commissioner to Australia and Asare Bediako Damtey as an Ambassador and the country's Deputy Permanent Representative to the African Union (AU) in Ethiopia.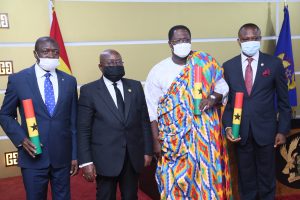 In a brief remark after the presentation, President Akufo-Addo described the trio as experienced Foreign Service Officers and charged them to bring their experience to bear in enhancing the soaring reputation of Ghana.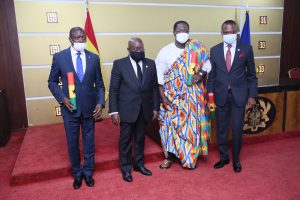 "In all of these, you have responsibility of preserving and promoting the image of a country whose reputation today amongst comity of nations. You represent a country and as a result of the commendable conduct of the Ghanaian people is regarded as one of the most stable on the continent a beacon of democracy, which is governed by the rule of law and respect for individual liberties, human rights and the principles of democratic accountability. You are the most visible symbol of our country out there and in all your actions you must jealously guard our country's image", was how he put it.
He was confident this is a charge they would uphold.
Even though they have experienced in the Foreign Service, the President had cause to advise them that "to strive to develop cordial working relations with your professional Foreign Service officers you find in your duty post, because they have invaluable experience and knowledge of the terrain which should help you work efficiently."
His reason was "you would need their assistance and they would need your guidance and leadership", insisting that "mutual respect is the key to a harmonious working relations."
"Again, your rapport with the Ghanaian community in your country of accreditation will be vital for your prospects of success. They will be counting and looking up to you to Champion, not only our nation's interests, but there's as well. Do your best not to disappoint them", he said.
By Charles Takyi-Boadu, Presidential Correspondent