Some of the new waste bins on display at the launch
The Chief of Staff Frema Osei-Opare and the Minister of Sanitation and Water Resources Cecilia Abena Dapaah yesterday launched the National Street Litter Bin campaign, which will ensure that litter bins are placed at vantage points to promote proper waste management in the cities and towns across the country.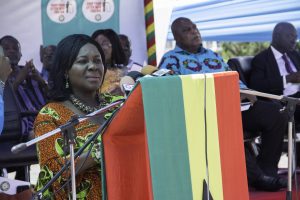 Cecilia Abena Dapaah, Minister of Sanitation and Water Resources delivering her address
The campaign, dubbed, "Let's Clean Ghana—Play Your Part," is part of the national campaign to ensure clean environment, especially in the nation's cities and towns and also to help fulfill the president's dream to make the nation's capital, Accra, the cleanest city in Africa..
Launching the campaign, the Chief of Staff said every Ghanaian citizen has a responsibility to ensure that the environment is always clean, which will eventually promote good health, improve the country's socio-economic development and drastically reduce poverty in the country.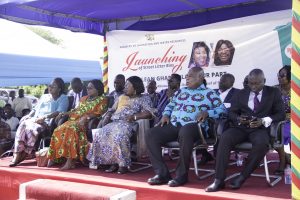 Dignitaries at the ceremony.
She asked Ghanaians to change their attitude on sanitation and ensure that waste is always properly disposed of at designated points.
Ms Osei-Opare indicated that dedicated phone numbers would be printed on all the bins that would be placed at various points in the cities and towns so that concerned members of the public can call managers of the street bins if they are full, being damaged or abused so that prompt actions could be taken.
She warned against saboteurs who intend to either steal or destroy the bins, stressing that those who engage in that anti-social behavour would be arrested and prosecuted because there will be an effective monitoring system in place to check such saboteurs or nation wreckers.
The Minister of Sanitation and Water Resources, for her part, said that the issue of plastic waste has become very problematic and the government would soon come out with a plastic policy to deal decisively with the menace of plastic waste.
According to her, the ministry is engaging manufacturers of plastic products to see how best plastic waste could be managed in the country.
She also said that the ministry intends to distribute about 20,000 litter bins to the various metropolitan, municipal and district assemblies, as well as public institutions across the country.
The minister said Ghanaians must realize that proper waste management and clean environment are poverty reduction tools and so every Ghanaian should make it a point to keep the environment clean wherever he or she finds himself.
The launch yesterday saw the distribution of about 4,000 bins to some selected metropolitan and municipal assemblies in the Greater Accra Region including the Accra Metropolitan Assembly (AMA), Ablekuma North Municipal Assembly, Ga East Municipal Assembly, Ayawaso West Wuogon Municipal Assembly, Kpone-Katamanso Municipal, La-Nkwantanan Municipal, Osu-Klottey Municipal, among others.
By Thomas Fosu Jnr