Member of Parliament for New Juaben South in the Eastern Region, Michael Okyere Baafi has organized a health screening exercise for the residents in his constituency.
The exercise saw hundreds of people in Koforidua, besieging the forecourt of the Eastern Empire premises to check their health status and get treatment for minor conditions.
According to the New Juaben South MP, despite several other challenges that exist in the constituency, the health of his constituents remained paramount hence his decision to organize the screening.
Speaking to DGN Online, he said issues regarding coronavirus pandemic have restricted them from embarking on any serious project during this festive period.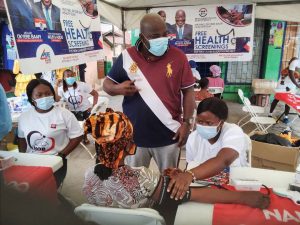 However, he decided to undertake a venture like free health screening that would not be too demanding in terms of trying to bring a lot of people together.
According to him, he thought it wise to embark on free health screening for the people as he strongly believes most people find it difficult to do so by knowing their health situation.
He said they are doing that to help the people in the area to know their health status.
Mr. Baafi added that the coronavirus pandemic has brought different situations to the system and for that matter, trying to find solutions to health problems.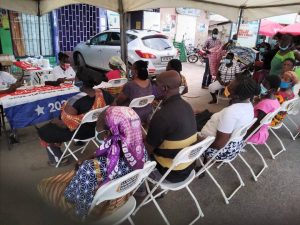 He indicated they are not looking at covid-19 alone and he is of the view they are looking at other underlining situations people may have which they do not know.
He insisted he is not going to leave any stone unturned as he promised to go all out in terms of sensitization and bringing to their knowledge the need to visit the hospital as often as possible.
FROM Daniel Bampoe, Koforidua