James Gyakye Quayson
Parliament has written to the Electoral Commission (EC) declaring the Assin North seat vacant.
Per a letter sighted by DGN Online, the Clerk of Parliament, Cyril Kwabena Oteng Nsiah wrote to the EC on Monday, May 29, 2023 based on the recent ruling and orders of the Supreme Court.
"In the exercise of the power conferred and the duty imposed on the Clerk to Parliament by section 3 of the Constitution of the Republic of Ghana (Amendmem) Act, 1996 (Act 527), 1, CYRIL KWABENA OTENG NSIAH, Clerk to Parliament do hereby formally notify you of the occurrence of a vacancy in the Assin North Constituency necessitated by the Judgement of the Supreme Court dated 17, May, 2023 wide Writ No. J1/11/2022 issued in respect of James Gyakye Quayson in the case of Michael Ankomah Nimfah vs James Gyakye Quayson, The Electoral Commission and the Attorney General and request you to take the appropriate consequential as required by law," according to the letter sighted by DGN Online.
This thereby meant that there is the need for a by-election in the Assin North constituency.
Supreme Court had ordered Parliament to expunge James Gyakye Quayson's name from its records after it concluded that he failed to renounce his Canadian citizenship at the time of filing his nomination forms to contest the polls.
Presiding Judge, Justice Jones Dotse on Wednesday, May 17, ruled that the Electoral Commission (EC) acted unconstitutionally in allowing him to contest the 2020 parliamentary elections without proof of him renouncing his Canadian citizenship.
This is in the case filed by a resident of the constituency, Michael Ankomah Nimfah who had asked the court to rule that upon a true and proper interpretation of Article 94(2)(a) of the 1992 Constitution of Ghana, at the time Mr Quayson filed his nomination forms in October 2020 to contest the 2020 Parliamentary elections for the Assin North constituency, he was not qualified to contest as a member of Parliament.
This provision of the constitution provides that a person shall not be qualified to be a member of Parliament if he owes allegiance to a country other than Ghana.
The court in a unanimous decision ruled that Mr. Quayson was not qualified at the time of filing his nomination forms.
It further held that the EC allowing him to contest when he had not shown evidence of renunciation of his citizenship of Canada was unconstitutional.
His name was to be expunged from records of the house, and his seat to be declared vacant to allow for a by-election.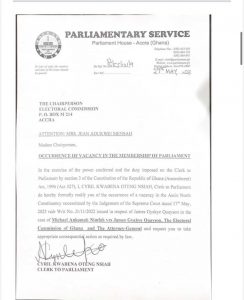 By Vincent Kubi