The Spanish government through its embassy in Ghana has donated four pickup vehicles to the Ghana Immigration Service (GIS) and the Ghana Police Service.
Speaking at the handing-over event at the forecourt of the Ministry of the Interior in Accra yesterday, the Ambassador of Spain to Ghana, Javier Gutierrez said the donation is aimed at supporting the two security agencies in their efforts to strengthen the country's borders against terrorism.
He stated that the donation was within the framework of Spanish Guardia, Civil and Police implementation of the EU counterterrorism projects.
The GIS received three of the vehicles while Ghana Police Service was given one to augment its operations.
According to the Spanish Ambassador, the vehicles will also help in combating common challenges such as violent extremism and organised crime in Ghana as well as in the sub-region.
Minister for the Interior, Ambrose Dery, who received the vehicles worth over €96,000 on behalf of the security services, thanked the Spanish government for its continuous support geared towards consolidating the relationship between the two countries.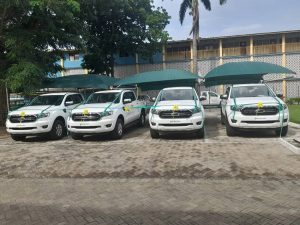 According to him, the support from the Spanish government has over the years helped in reducing irregular migration which has been a major challenge facing the two countries.
He further stated that Ghana under the leadership of President Akufo-Addo has equipped security agencies with the requisite resources to enable them to continuously fight crime and terrorism while ensuring that Ghanaians do not embark on any perilous journey to Europe.
"We therefore welcome such support from partner organisations. It is not just the value of this vehicle but the spirit behind it that we work together. We must celebrate the fact that Ghana means an oasis for peace in our sub-region, we don't take it for granted," he said.
The minister also lauded the work of various institutions and individuals who continue to provide them the needed intelligence in its efforts to ensure sustainable peace.
The Spanish government in recent times also donated ICT equipment to the GIS to help Ghana manage irregular migration and other cross-border crimes.
By Ebenezer K. Amponsah